See a handful of easy toilet paper roll crafts for kids and even toilet paper roll crafts for adults too! Learn how to take an unused household item and turn it into a cute art or activity.
Creating kids crafts can be messy and expensive sometimes. What if I told you that you could create something out of nothing! Well, not actually nothing but something you would probably throw away anyways.
The beauty of things to make with toilet rolls is that it won't cost much, you are recycling (teaching good habits), and it teaches kids to think outside of the box.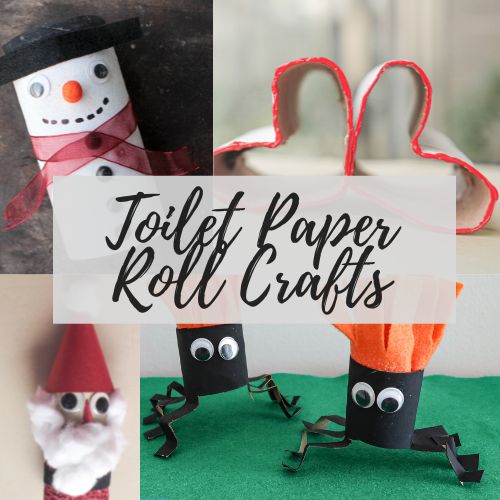 There are so many ways to make toilet paper roll art and paper towel roll projects. Listed below are tons of ideas. From Christmas toilet paper roll crafts to everyday toilet paper roll crafts, we've got you covered!
By the way, this list will only grow from here! Make sure to subscribe to my email list so you don't miss out.
Disclosure; this post contains affiliate links. As an Amazon Associate I earn from qualifying purchases. This does not affect the price you pay. This disclosure statement refers to the rest of the Amazon links in this post. See more on my disclosure page.
Where to buy empty toilet paper rolls
Sometimes craft stores and big box stores (in the craft isles) will carry toilet paper rolls. If you plan to complete a lot of these recycled activities, you are better off ordering them online. Amazon has a great selection of these craft rolls (unused wahoo). Walmart even carries a handful of different toilet paper roll for crafts too! Don't forget about Target where you can buy them in the color white!
This leads me to my next questions,
Are toilet paper rolls sanitary for crafts?
Since the days of the good old virus (you know what I'm talking about), we have become a lot more proactive in reducing whatever germs we can. I've even read that flushing the toilet with the lid open sends aerosol contaminants into the air.
What sits next to the open toilet? A toilet paper roll. Womp womp womp.
The risk of transmitting bacteria and disease should still be low if you don't clean a toilet paper roll before crafting.
Buuuuuut
Let's still do the best we can to keep our kids and our home germ free.
More than that, teaching kids to help clean the rolls before using them for crafts is a great way to teach good hygiene.
How do you clean toilet paper rolls for crafts?
Since toilet paper rolls are cardboard, spraying cardboard and making it damp or wet just doesn't sound like a good idea for crafting. So what now?
According to the CDC, "the best method to kill all microorganisms is Steam under pressure, dry heat, EtO gas, hydrogen peroxide gas plasma, and liquid chemicals."
We know that we don't want to use liquid chemicals, and I don't have access to gas, plasma or steam under pressure, so what about dry heat? Where could I get dry heat?
What about the oven?
This lead me to research baking toilet paper rolls which also lead me to find out that other bloggers have also come to the same conclusion!
Melissa from the blog Pretty Delightful has a great post about baking toilet paper rolls. She says to heat the oven to 212 degrees F and bake for 30 minutes! Sounds pretty easy to me!
Now that I've given you some ideas of where to purchase the rolls or how to fully clean them and get them ready for crafts, let's check out some awesome art with toilet paper rolls!
The Best Toilet Paper Roll Crafts for Kids
Learn how to make this cute Bumblebee craft for kids with a toilet paper roll tube. This easy bee craft is a great spring craft that can also inspire children to learn about Bees and pollination.