Learn how to make this cute Bumblebee craft for kids with a toilet paper roll tube. This easy bee craft is a great spring craft that can also inspire children to learn about Bees and pollination.
With spring just around the corner, including the abundance of flower crafts, a cardboard tube bee craft for kids fits right in! This might also be a fascinating way to teach the kids about pollination! Or it can also be used as a fun toy to both make and play with. Either way toilet paper crafts are always fun.
Whether the little ones use these as small puppets or just leave them around the plants with flowers, this cardboard tube bee craft is definitely worth a try.
Disclosure; this post contains affiliate links. As an Amazon Associate I earn from qualifying purchases. This does not affect the price you pay. This disclosure statement refers to the rest of the Amazon links in this post. See more on my disclosure page.
Supplies for Bee arts and crafts project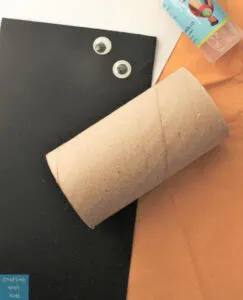 Bumblebee Craft for kids with a toilet paper roll tube
Step 1:
Take the thin yellow paper and cut out a rectangle that has a width equal to the height of the paper tube. Wrap the cardboard tube with this piece of yellow paper and glue it in place.
It is absolutely fine if the paper forms a few wrinkles while pasting, this is what makes each of these unique.
If you are not a fan of measuring the paper, cutting it out and then pasting it, a simpler option could be to paint the tube using yellow paint.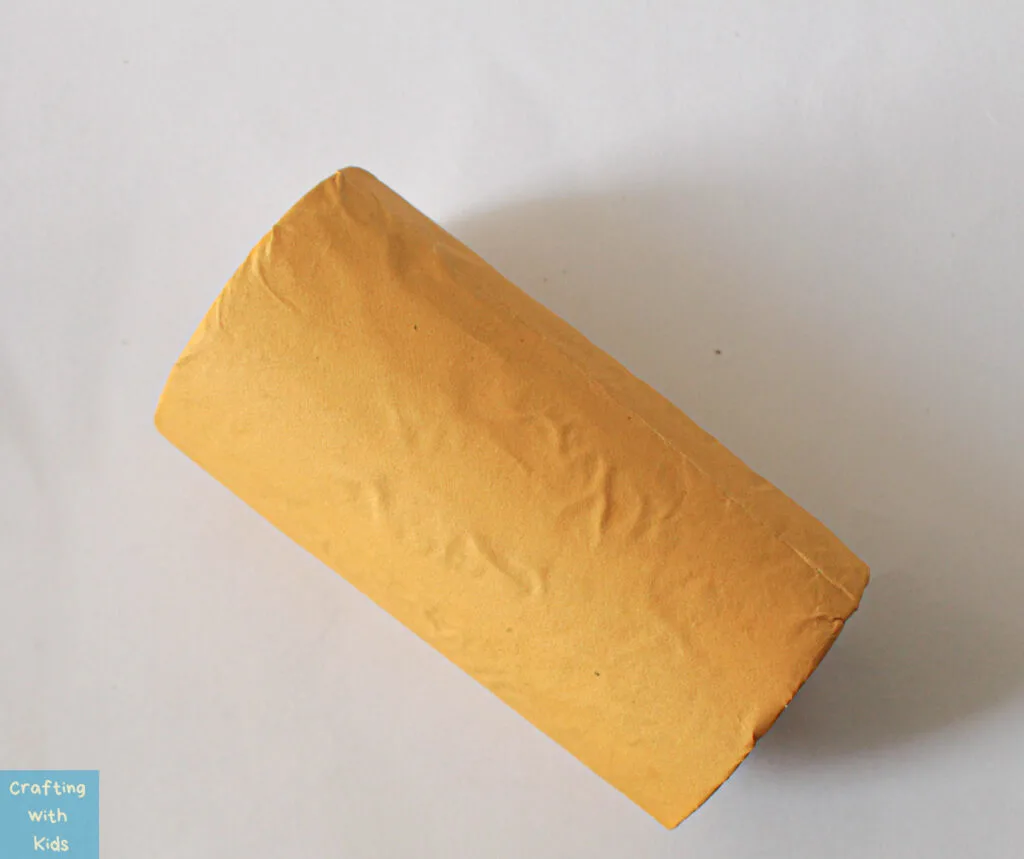 Step 2:
Using the black marker, draw horizontal "stripes" around the now yellow cardboard tube. Draw about 4 to 6 stripes, leaving large gaps between each of them.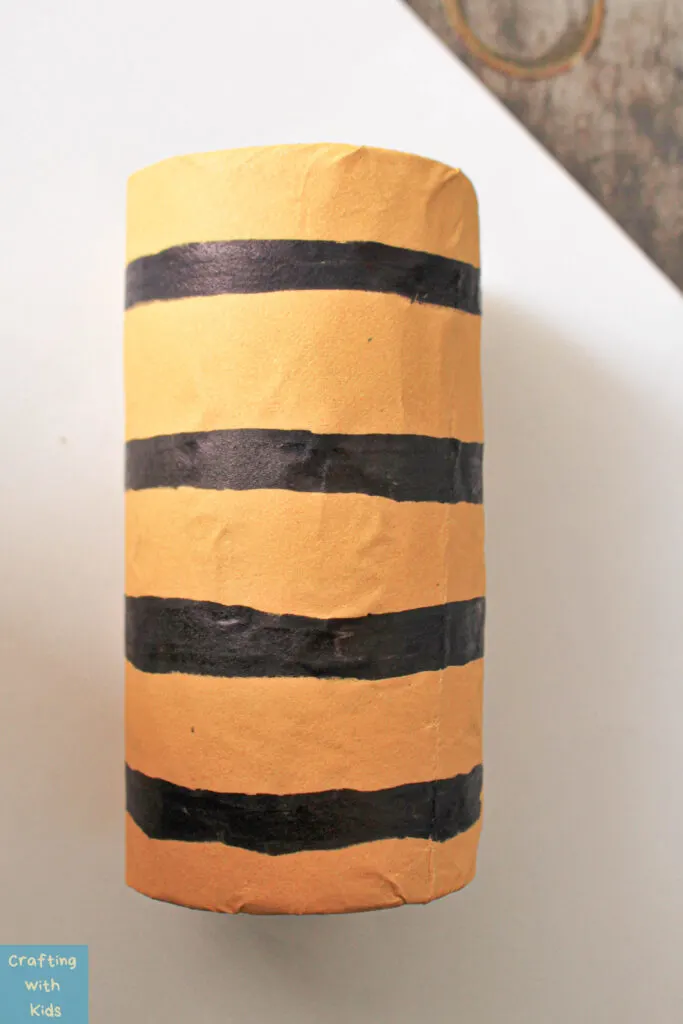 Step 3:
From the yellow cardstock paper cut out an egg-shaped piece that is about the size of the top of the tube. This will be the face of the bee.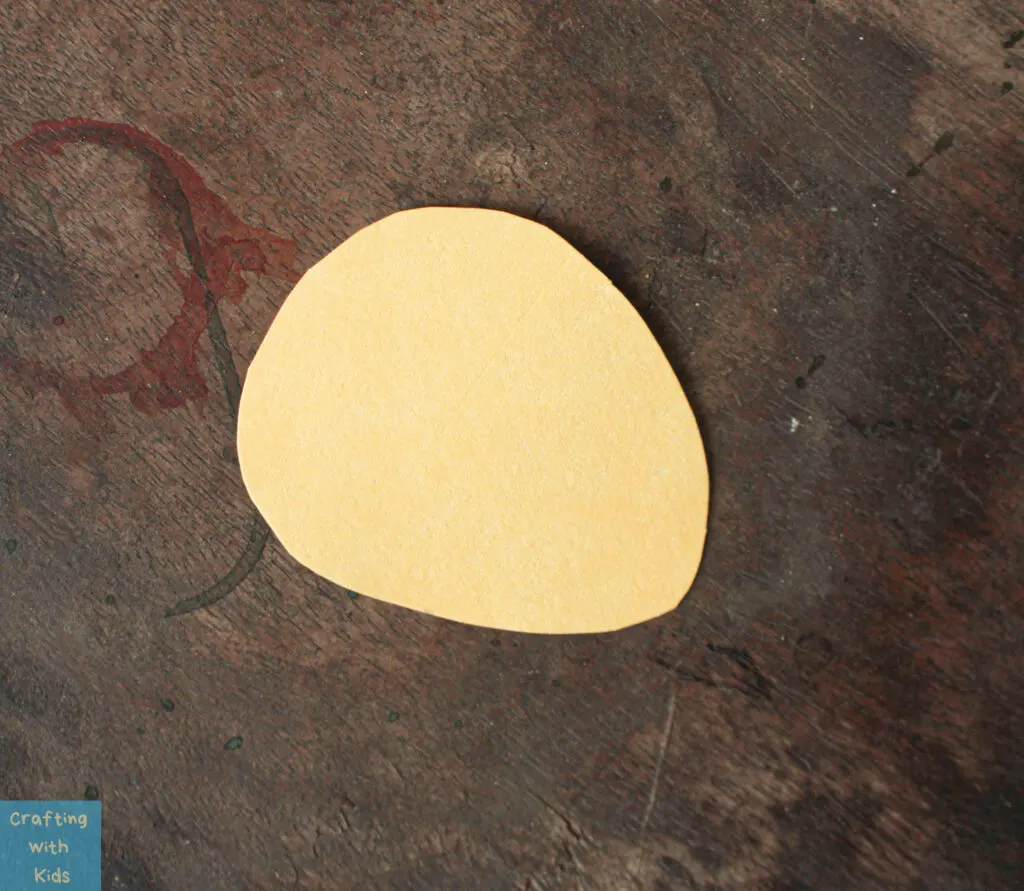 Step 4:
Paste the googly eyes onto this small yellow piece and draw an adorable little smile using the black marker.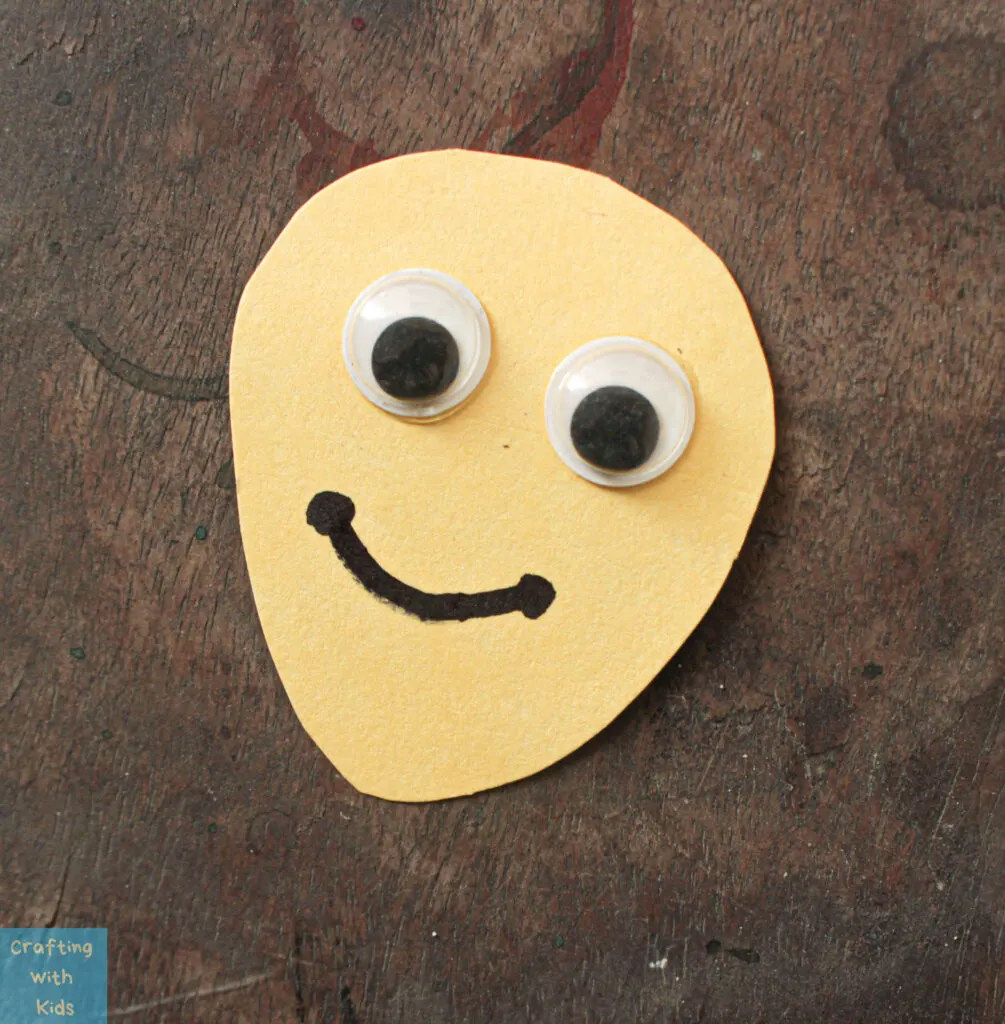 Step 5:
Use glue to stick the "face" of the bee onto the top of the prepared cardboard tube.
Step 6:
From the black cardstock paper cut out two "antennas". These could be as curved or as straight as you like. And if you are feeling extra creative you could go ahead and use anything similar, like pipe cleaners.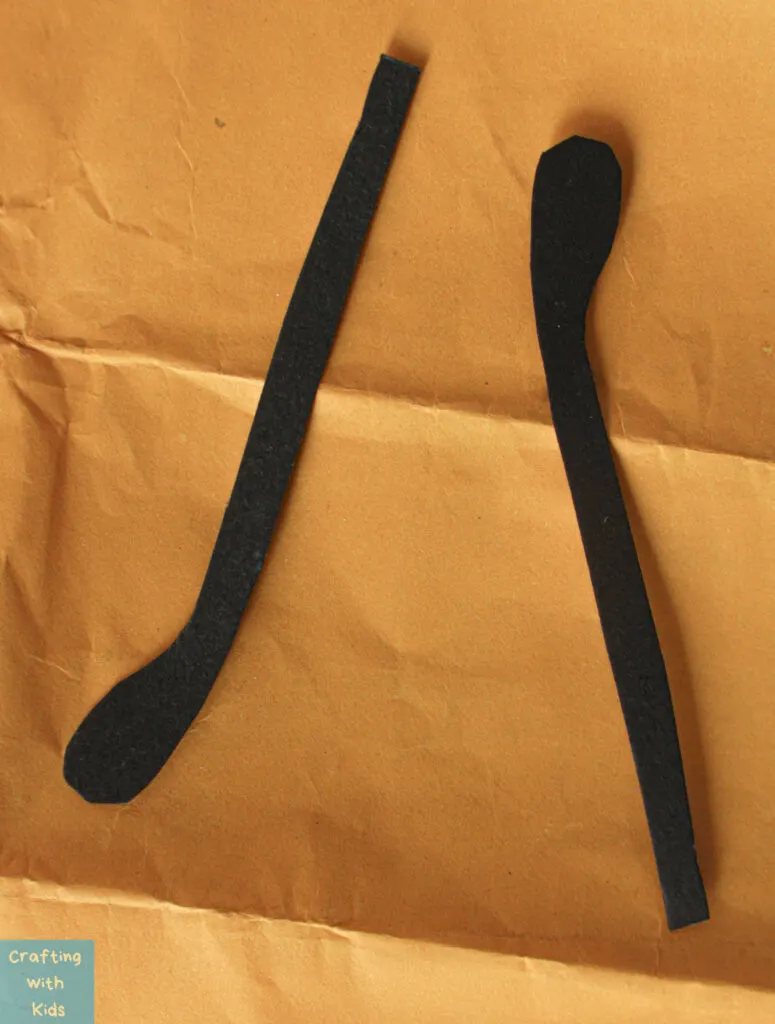 Step 7:
Paste the antennas behind the face of the bee on the inside of the cardboard tube. Since these pieces are thinner make sure they are secured well with glue to prevent any chances of them coming off.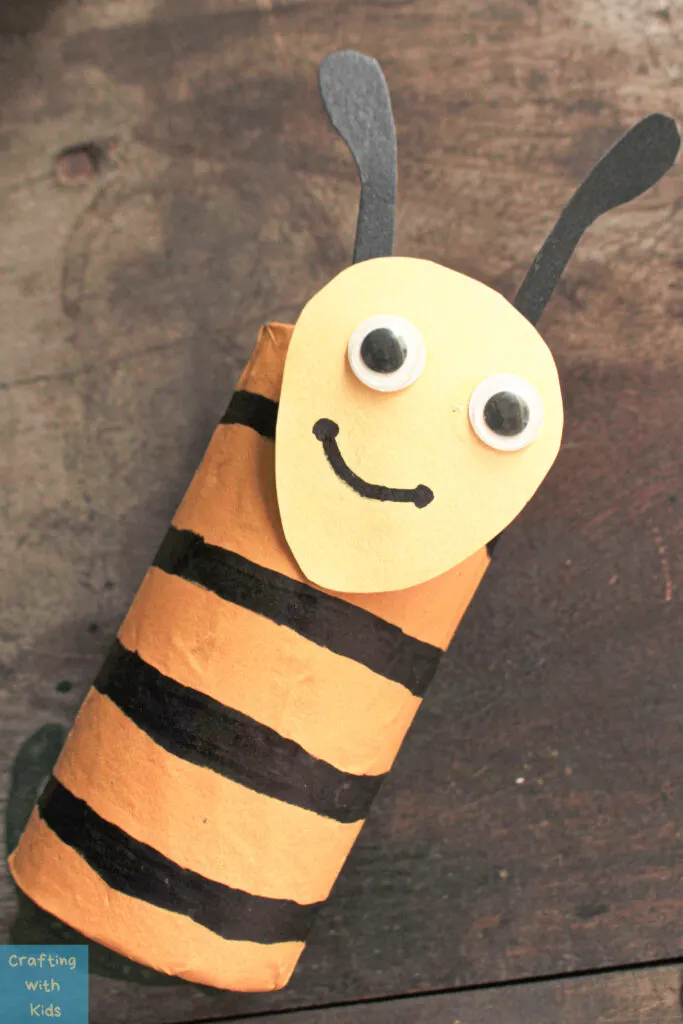 Step 8:
Use the white cardstock paper to cut out two petal-shaped pieces that will act as the wings.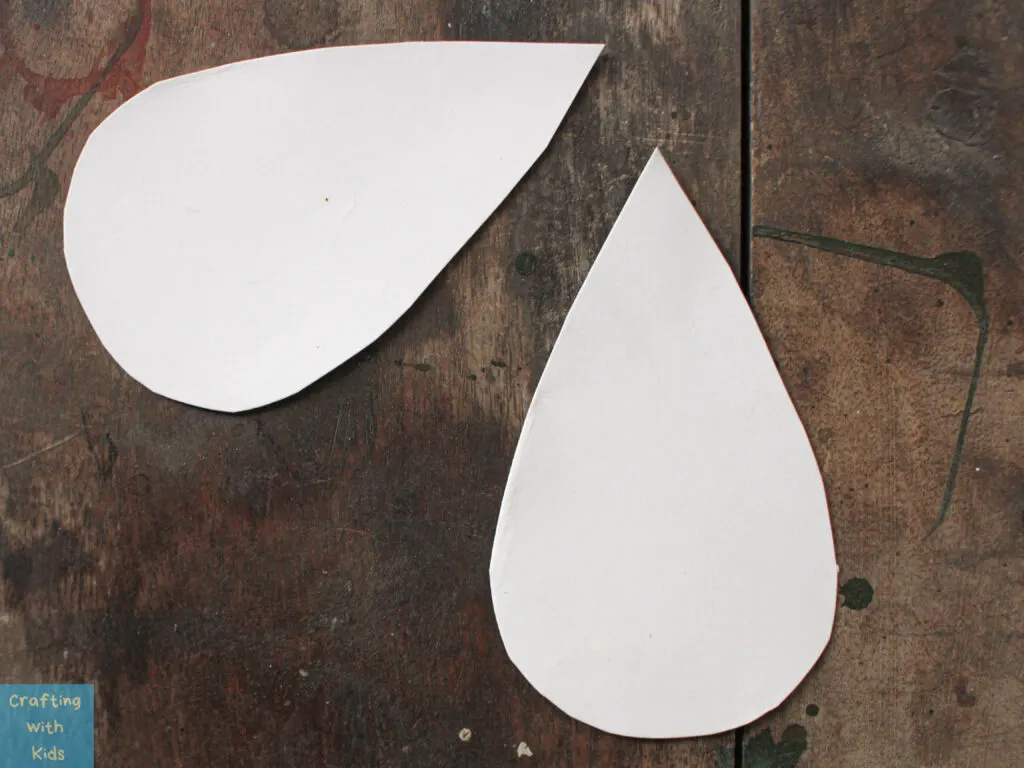 Step 9:
Once you have cut them out, glue them to the back of the cardboard tube. Make sure the pointed ends are overlapping so that they stay more secure.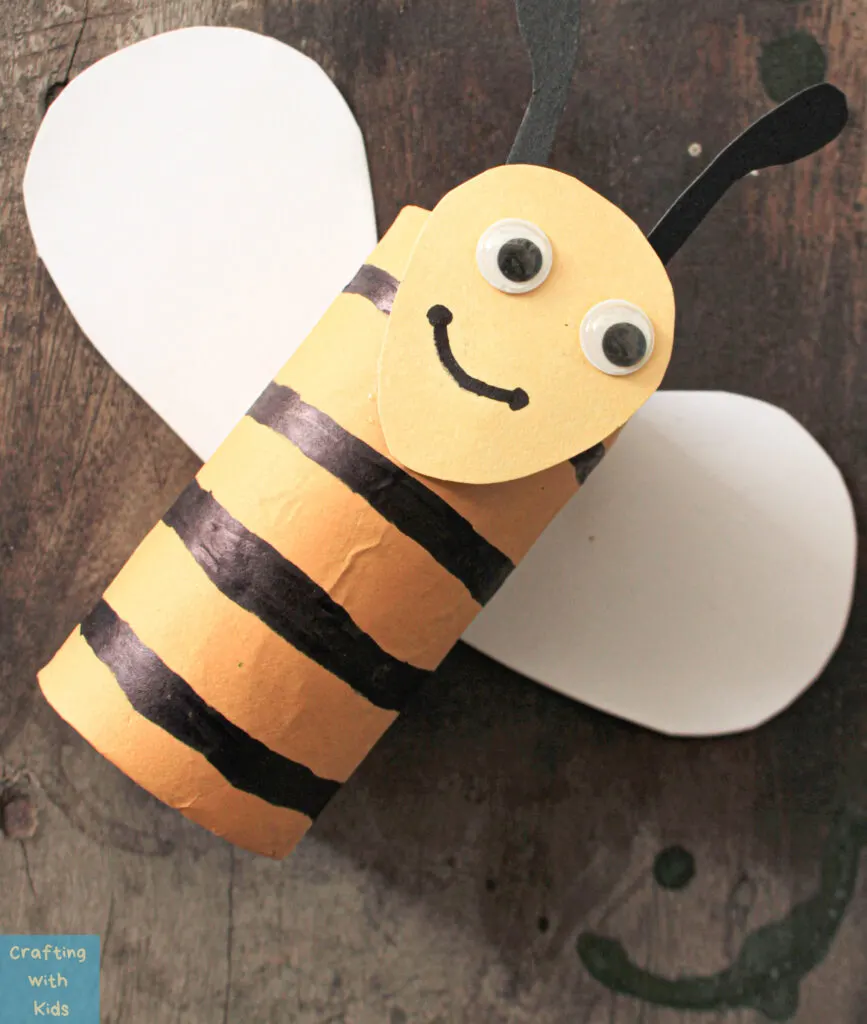 And that is it, now you have a little bee friend to keep you company!
With so few and easy steps why would anyone not give this a try? Feel free to put your own spin during any of these steps, like making the stripes wavy or even adding glitter. What matters the most is that everyone enjoys the process and time is well spent making this.
Toilet paper roll tube Bee Craft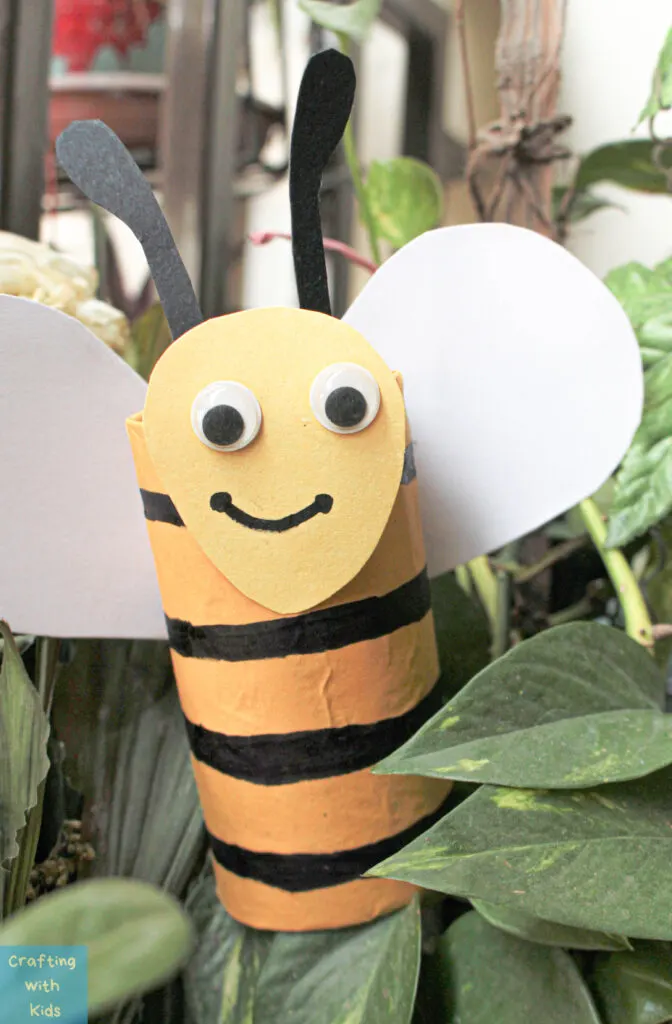 Isn't it cute? It turned out a lot better than I originally expected it would.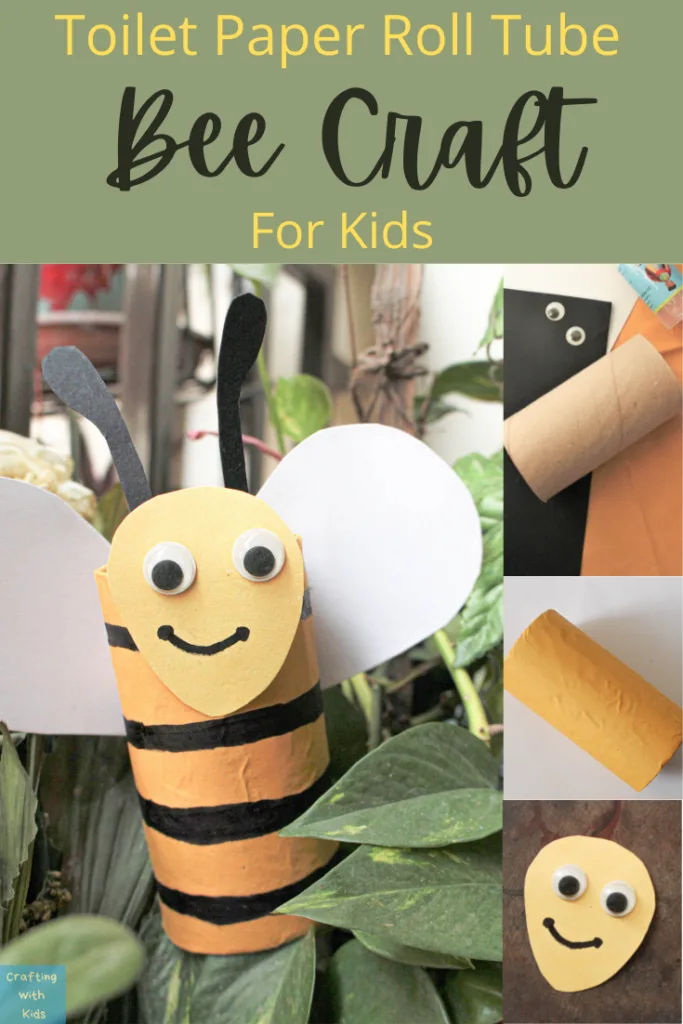 Make sure to check out more spring related crafts below:
Rock Painting with Acrylic dip technique
Fingerprint tree craft for Toddlers
Walking rainbow water experiment
How to draw a rainbow with a rainbow template
Happy Crafting friends!