Learn how we used four under the bed storage containers to attach to a rolling trundle. These containers serve as storage space for my kids toys in order to maximize space in a small bedroom.
Toy organization is always a struggle in our house. We don't have a playroom so all my kids toy's stay (mostly) in their bedrooms. They have small bedrooms so I'm always on the hunt for good organization ideas.
My daughter has a trundle under her bunk bed that I previously used with a mattress topper. I got the bright idea that I would remove the mattress topper (we never use it) and add four under the bed storage bins to help organize all her toys. Afterall, every kid needs more storage space right?
Side note; this is also a great idea for under the bed shoe storage, under the bed storage for a dorm room, under the bed storage for papers…the list goes on! Just because I happen to use it for toys doesn't mean you can't use this idea for anything!
The big bonus about this idea and why it works so well is because the trundle is already on rollers so it makes it easy to access the bins under the bed just by pulling them out. Score!
The trundle on wheels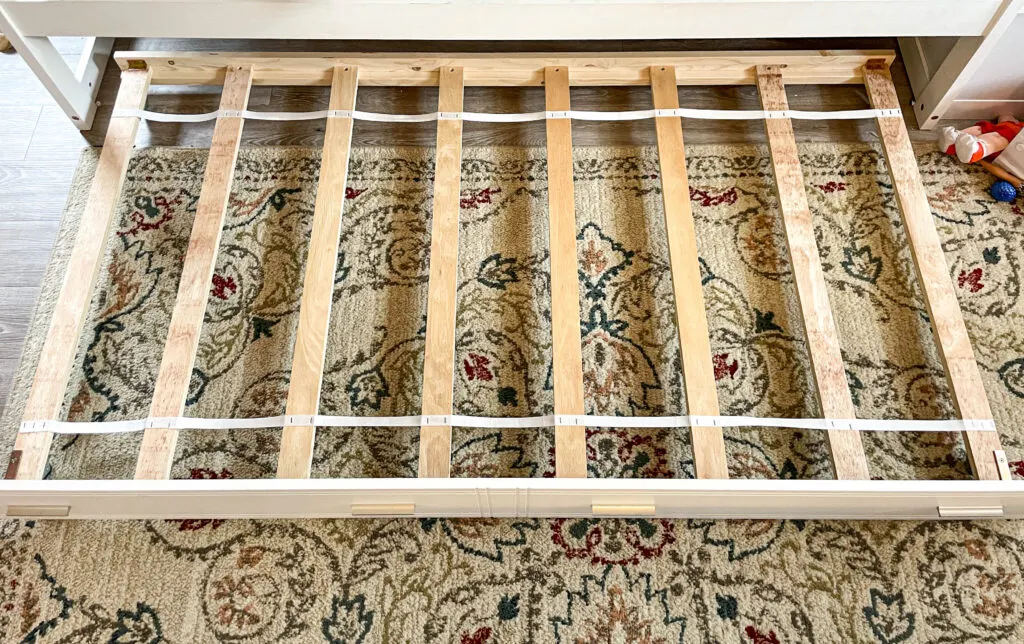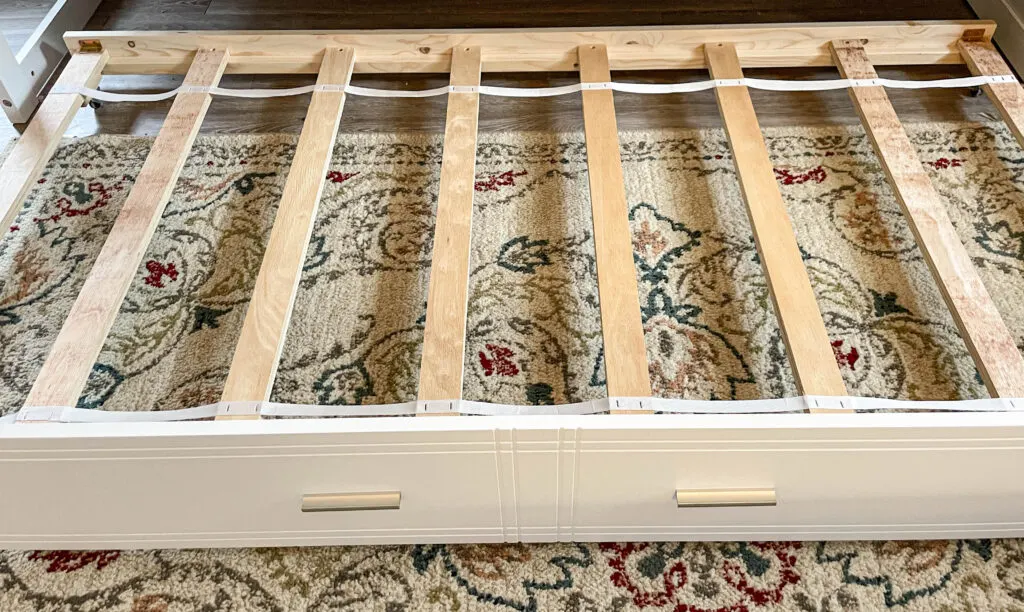 When I decided on this plan, I realized that the first thing I needed was a few good "under the bed" storage bins or storage containers. I wanted to maximize the space, so finding containers that filled up most of the trundle was a must.
Since all trundle's are different sizes, you want to measure the size of it first before you shop for the right storage solution. Make sure to leave enough room to easily grab the handle. Check out the picture below to see what I mean.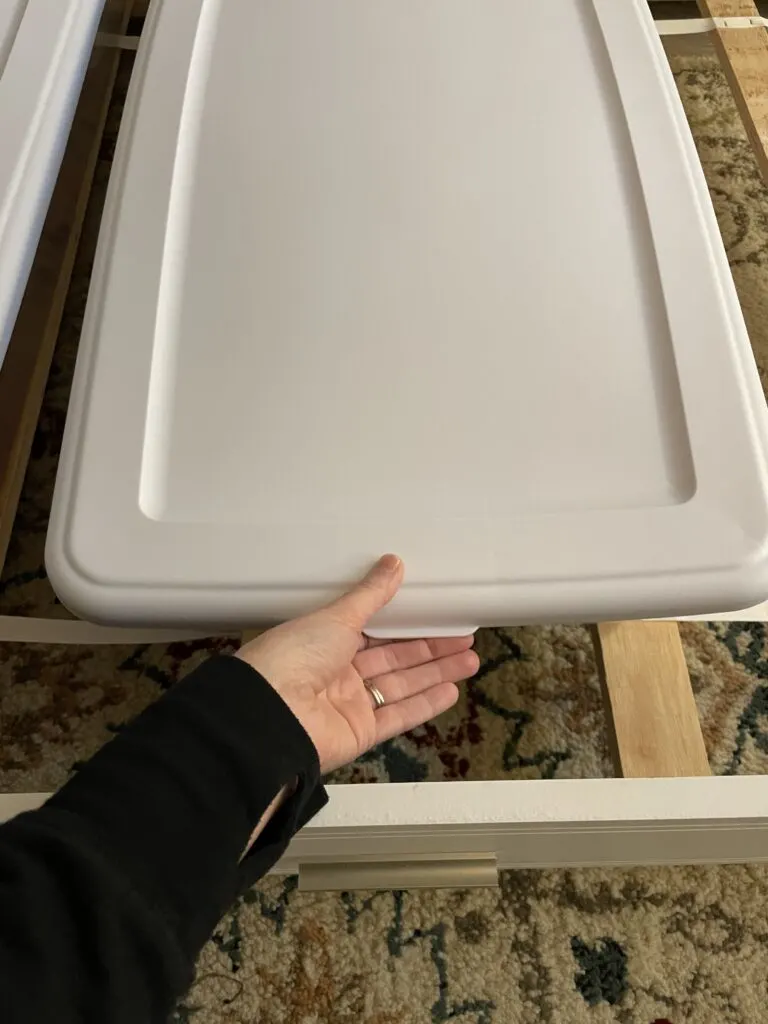 Disclosure; this post contains affiliate links. As an Amazon Associate I earn from qualifying purchases. This does not affect the price you pay. This disclosure statement refers to the rest of the Amazon links in this post. See more on my disclosure page.
Storage Bins that work well with twin size Trundle Beds
I found these 4 under the bed storage containers for our trundle.
How to attach storage bins to a trundle for easy under the bed storage
The first thing I did was measure the depth of the wooden slats and made sure I got the right sized screws. The wooden slats were about 1″ deep, so I used 3/4″ screws because the plastic from the bin is very thin.
I used an electric drill to drill 4 screws in each bin. I drilled two screws near each end of the plastic bins. I didn't bother drilling a pilot hole because the screws were so small I knew I wouldn't have any issues.
Most wood slats for trundle's are very thin pieces of wood. Make sure you aren't using a super long screw otherwise you'll have lots of screws poking down under the trundle bed. That probably should go without saying, but wanted to throw it out there just in case. Safety first right!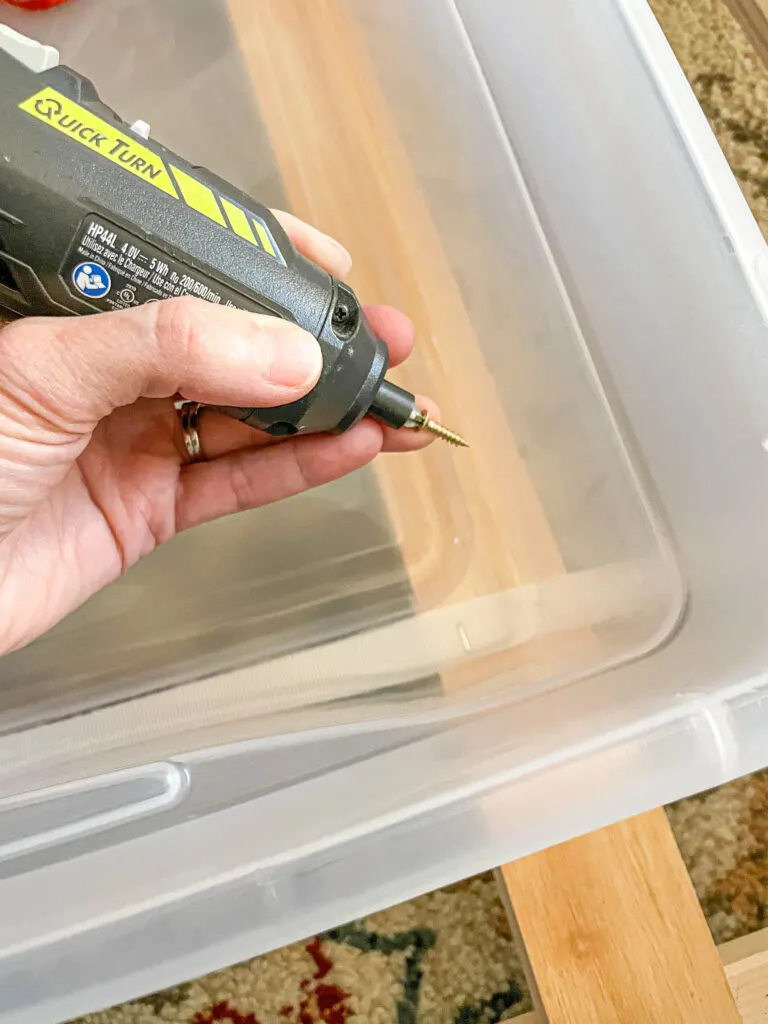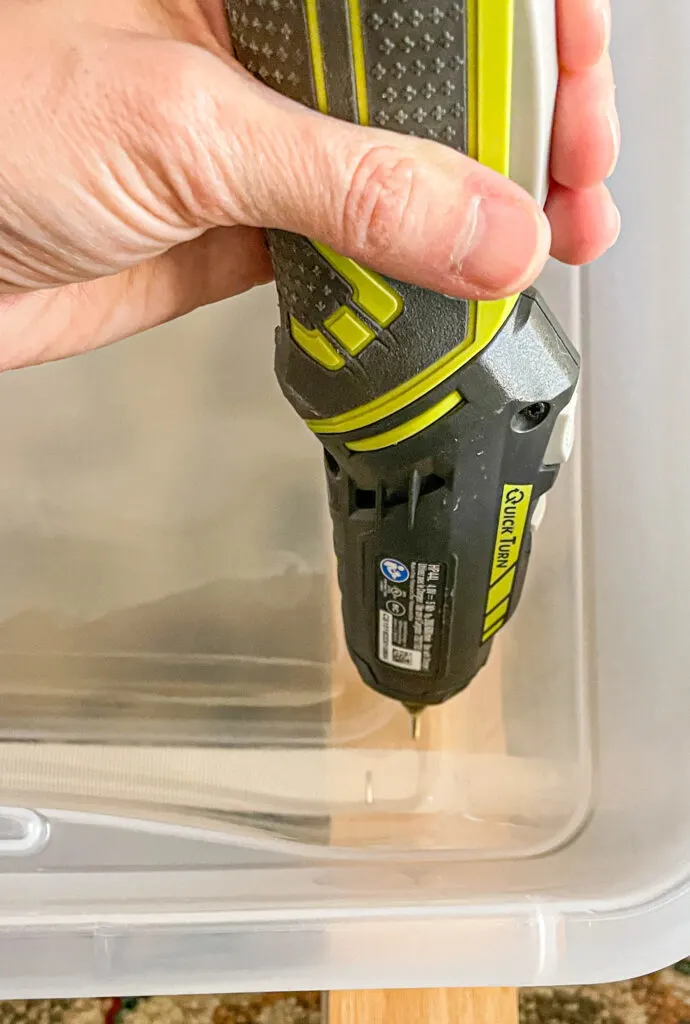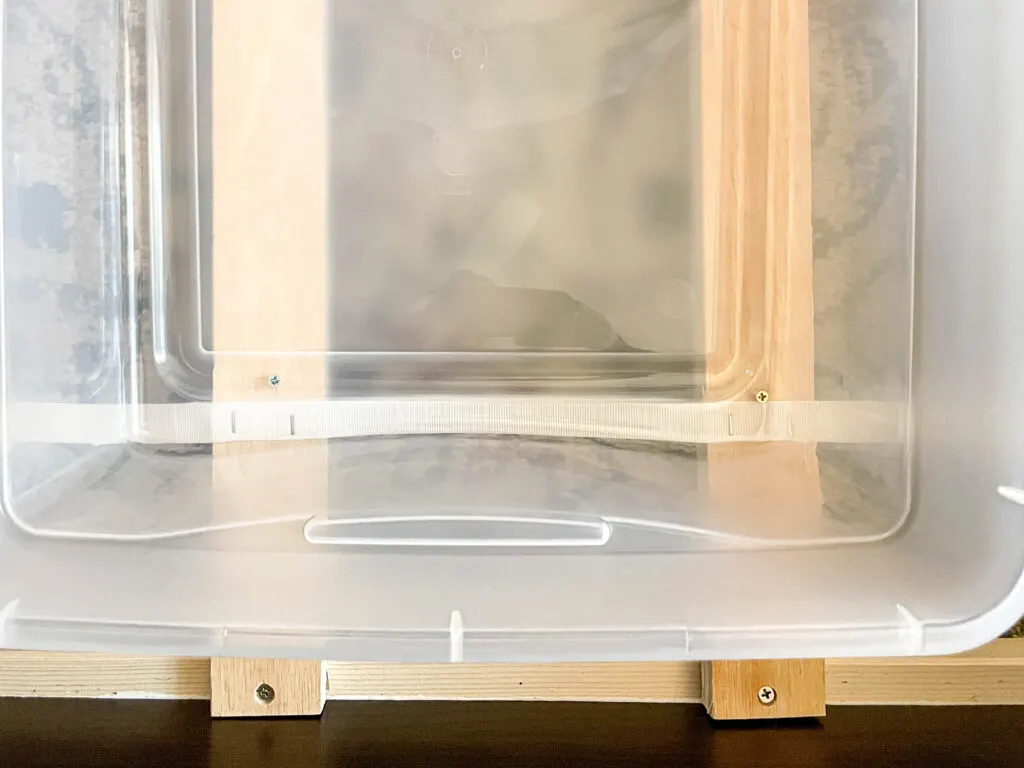 Once the four screws were in and each bin was secured to the trundle, it was time to organize!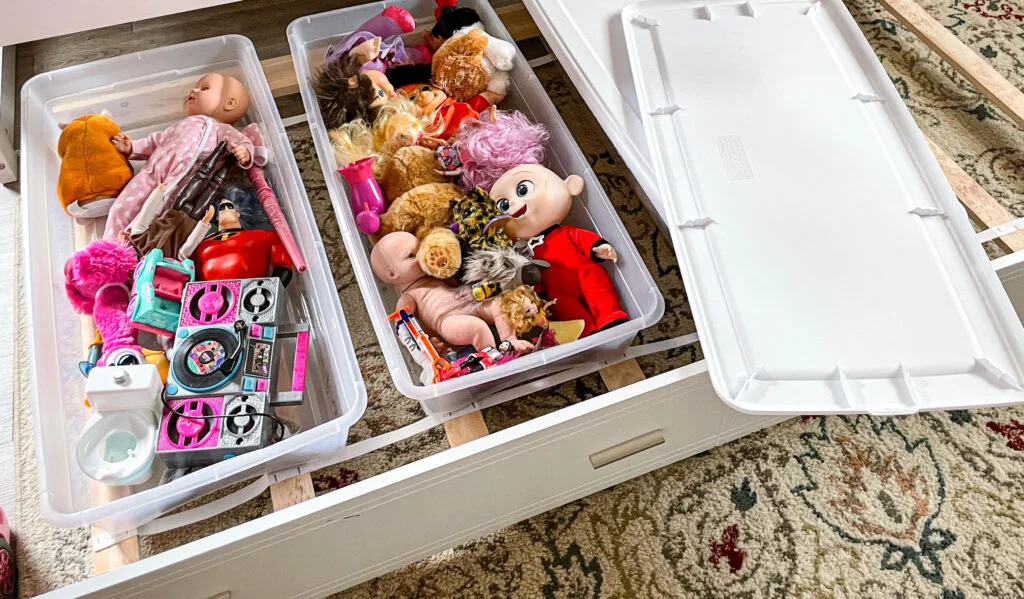 This makes my heart happy! This is a great and easy organization solution for a small space. No more toys on the floor! Speaking of toy storage solutions, did you see where I turned an unused animal cracker bear jug into toy storage?
Just in case you need some more under the bed storage ideas, we've got you covered.
More under the bed storage ideas
Overall, there are many creative ways to use the space under your bed with a trundle to create more storage space and keep your room organized.
Under the bed storage idea with plastic bins on a rolling trundle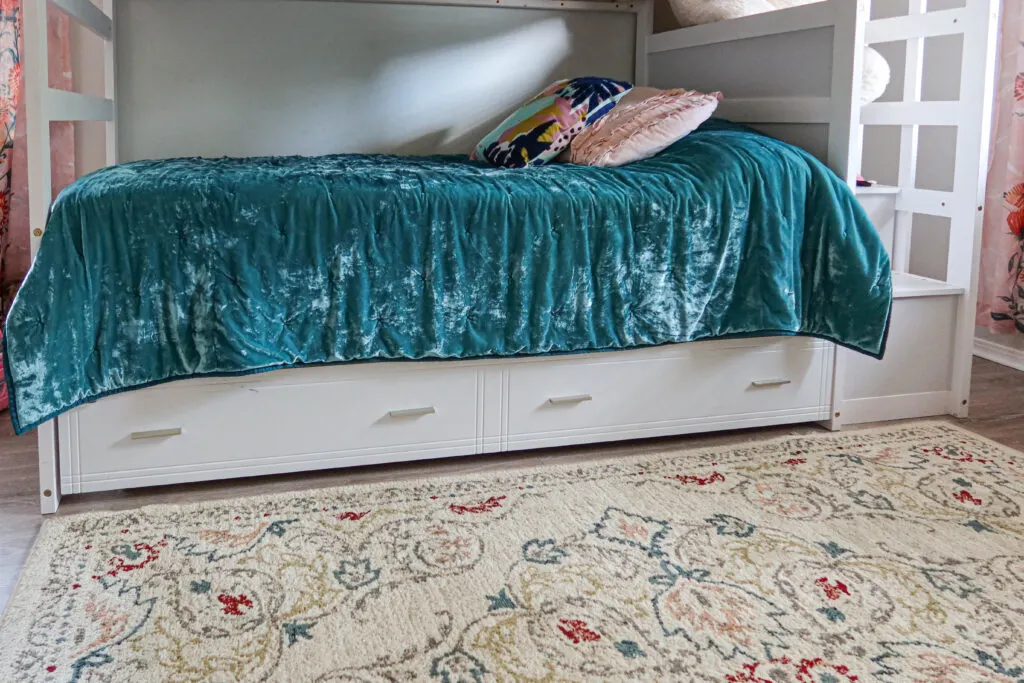 Looks like a normal bunk bed with a trundle right?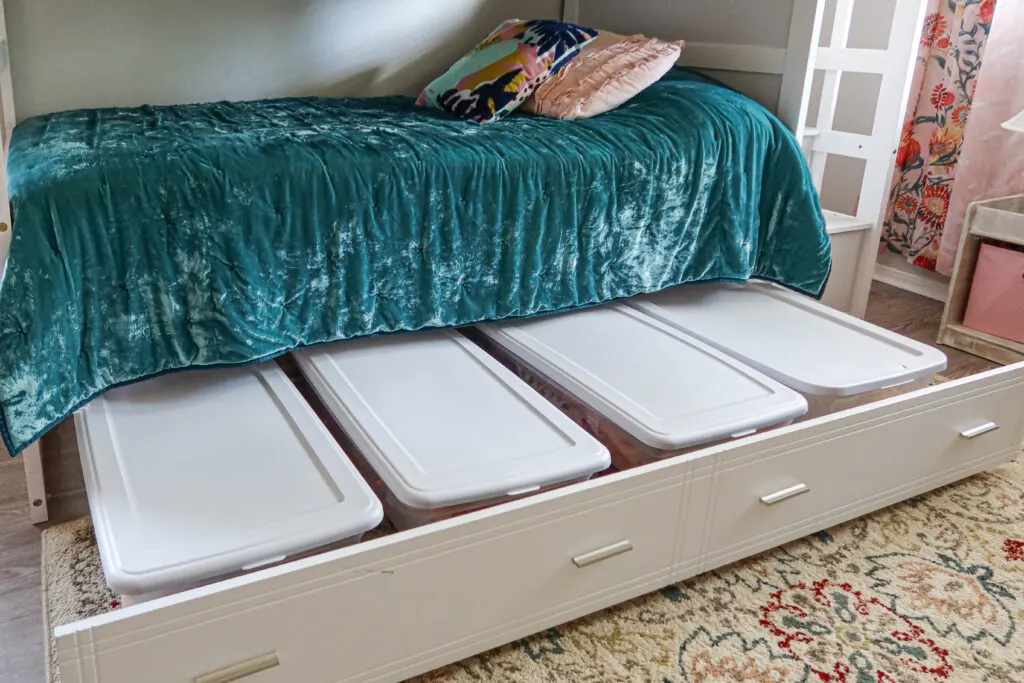 Ta-dah!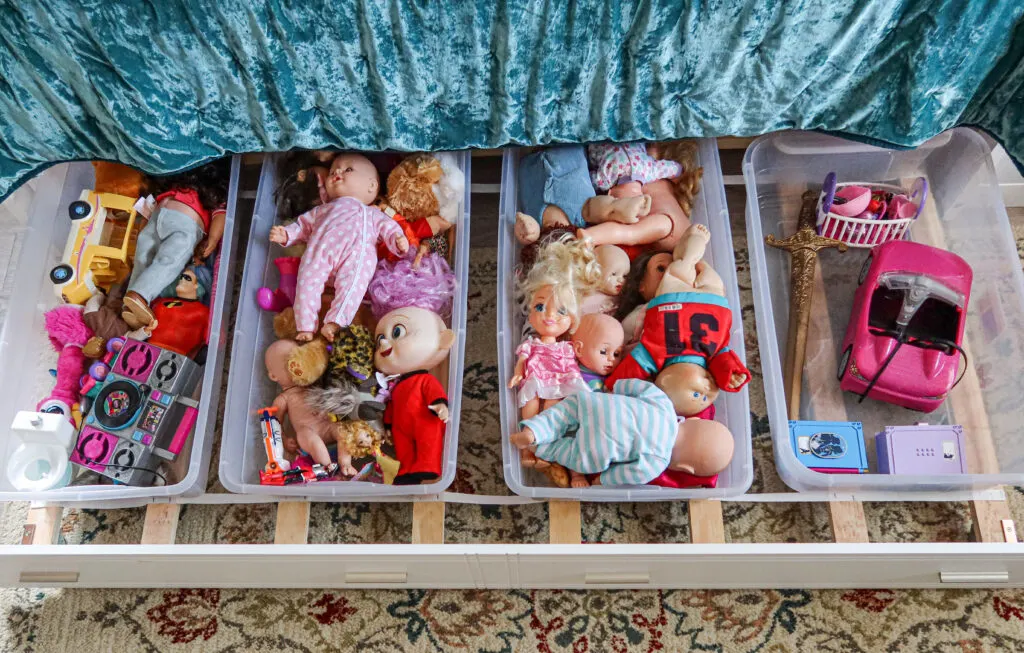 I love that my daughter officially has a "dump zone" now. When she's ready to clean up all she has to do is put her toys in the bins, close them and then push it under her bed!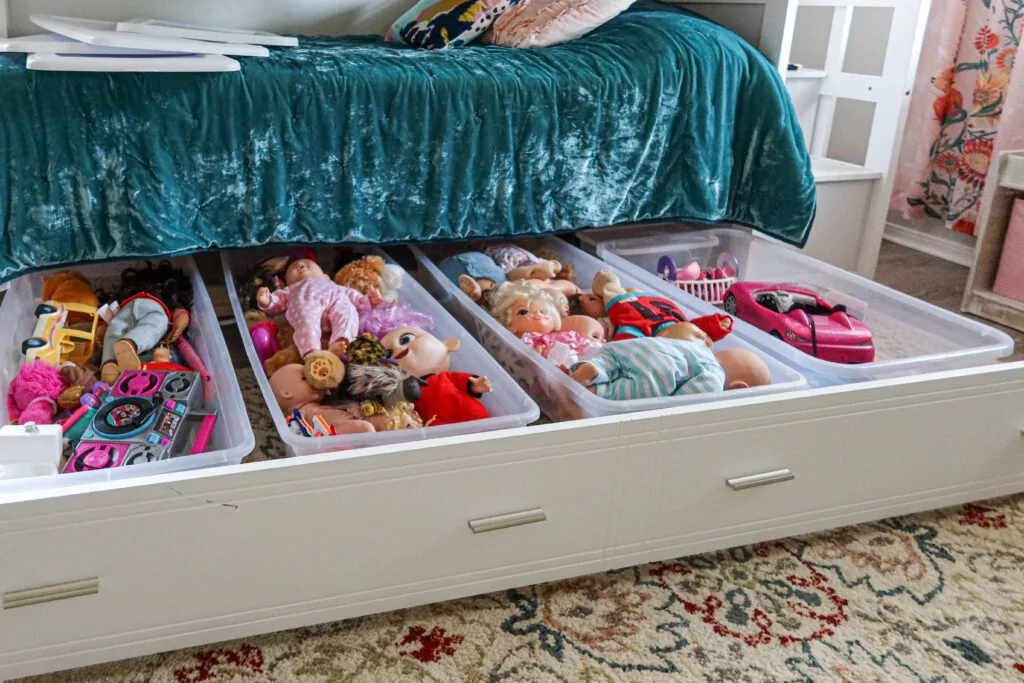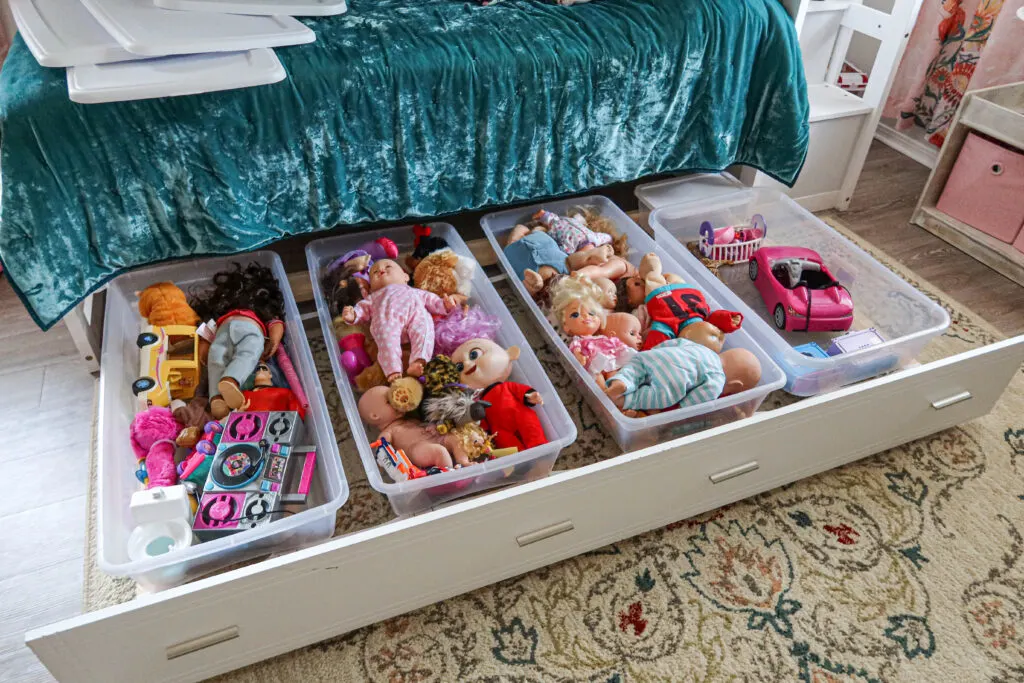 This storage idea has been a HUGE help to organize her room. Even if you don't have a rolling trundle, you can always add four under the bed storage containers like this.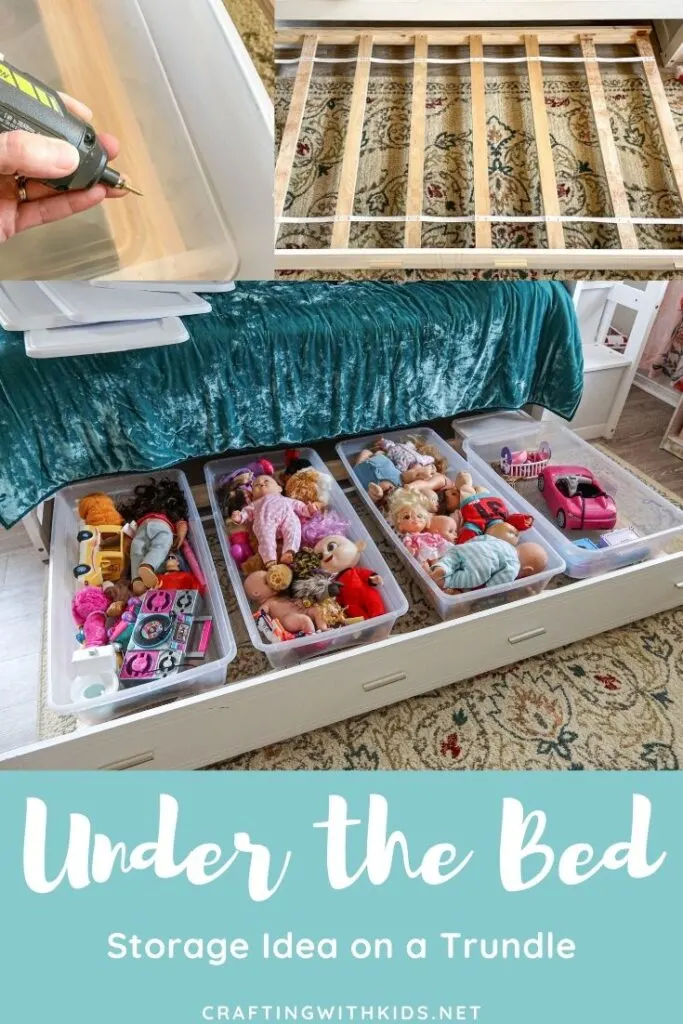 If you want to see the rest of her room, check out my girls bedroom makeover over on my other blog here.
If you've decided you would rather buy an under the bed storage solution than make your own, I've got a full post with six products that work great!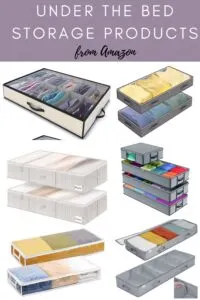 Happy Organizing!