Check out this fun and easy Kids Christmas Quiz. It includes 20 free Printable questions that will help teach kids more about the holidays. Use this list at home to spark conversations or pass it out at a holiday party!
Christmas time is such a magical time of year for kids. From Santa to holiday crafts to Christmas baking, it's such a joyful time.
Christmas is also a time to teach your kids about a few different things. As a matter of fact, this is a great family Christmas quiz that can get your whole family engaged in the reason for the season!
You can use this free printable Christmas quiz during a holiday party or just a simple family gathering. Either way, this is a great way to start a conversation about where Christmas came from, why the holiday season is the way it is, and even some Christmas movie trivia.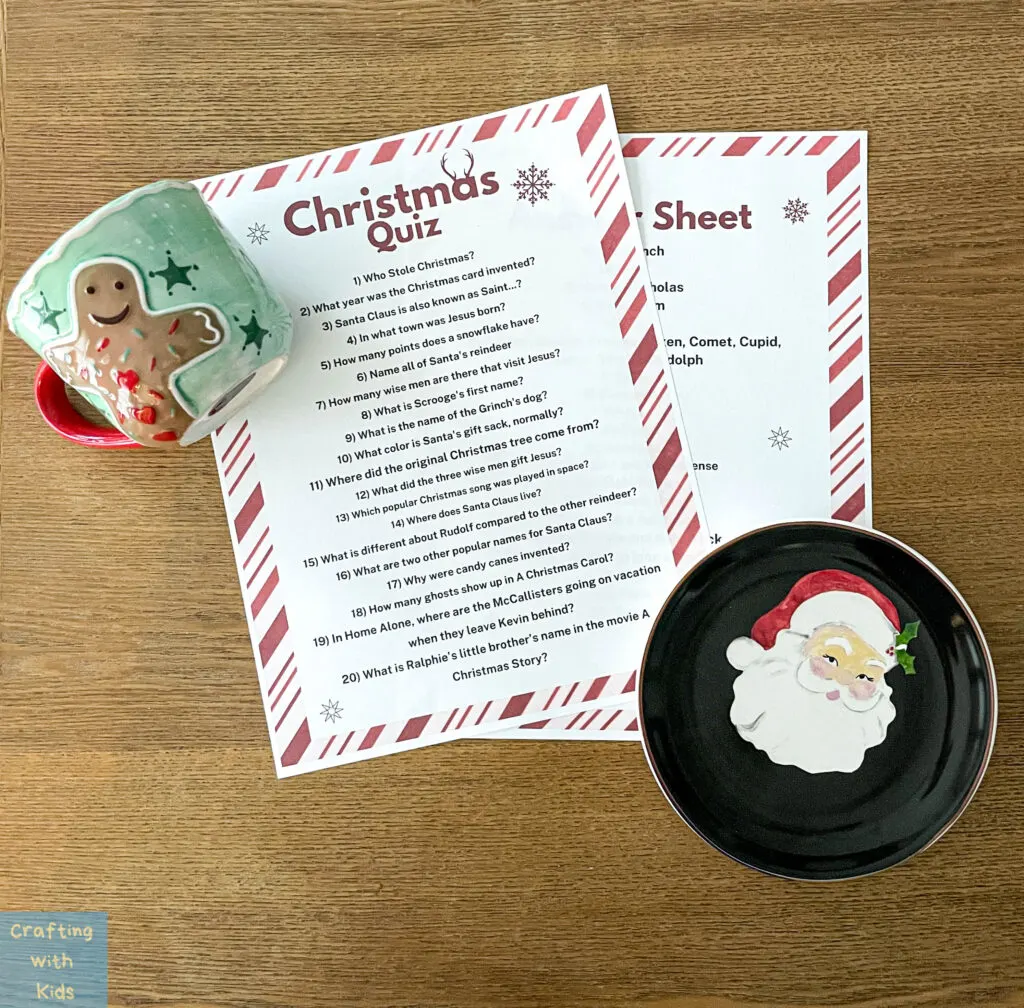 Kids Christmas Quiz – 20 fun and easy holiday questions
1) Who Stole Christmas?
2) What year was the Christmas card invented?
3) Santa Claus is also known as Saint…?
4) In what town was Jesus born?
5) How many points does a snowflake have?
6) Name all of Santa's reindeer
7) How many wise men are there that visit Jesus?
8) What is Scrooge's first name?
9) What is the name of the Grinch's dog?
10) What color is Santa's gift sack, normally?
11) Where did the original Christmas tree come from?
12) What did the three wise men gift Jesus?
13) Which popular Christmas song was played in space?
14) Where does Santa Claus live?
15) What is different about Rudolf compared to the other reindeer?
16) What are two other popular names for Santa Claus?
17) Why were candy canes invented?
18) How many ghosts show up in A Christmas Carol?
19) In Home Alone, where are the McCallisters going on vacation when they leave Kevin behind?
20) What is Ralphie's little brother's name in the movie A Christmas Story?
Do you know the answer to all of these? These questions aren't meant to take a rocket scientist to answer, just simple questions that might spark conversations with your kids about the holiday season.
Ready to see the answers?
Answers to kids Christmas quiz
1) The Grinch
2) 1843
3) Nick or Nicholas
4) Bethlehem
5) Six
6) Dasher, Dancer, Prancer, Vixen, Comet, Cupid, Donner, Blitzen, Rudolph
7) Three
8) Ebeneezer
9) Max
10) Red
11) Germany
12) Myrhh, gold, and frankincense
13) Jingle Bells
14) The North Pole
15) He has a red nose
16) Kris Kringle and Saint Nick
17) To entertain kids in long church services
18) Four
19) Paris
20) Randy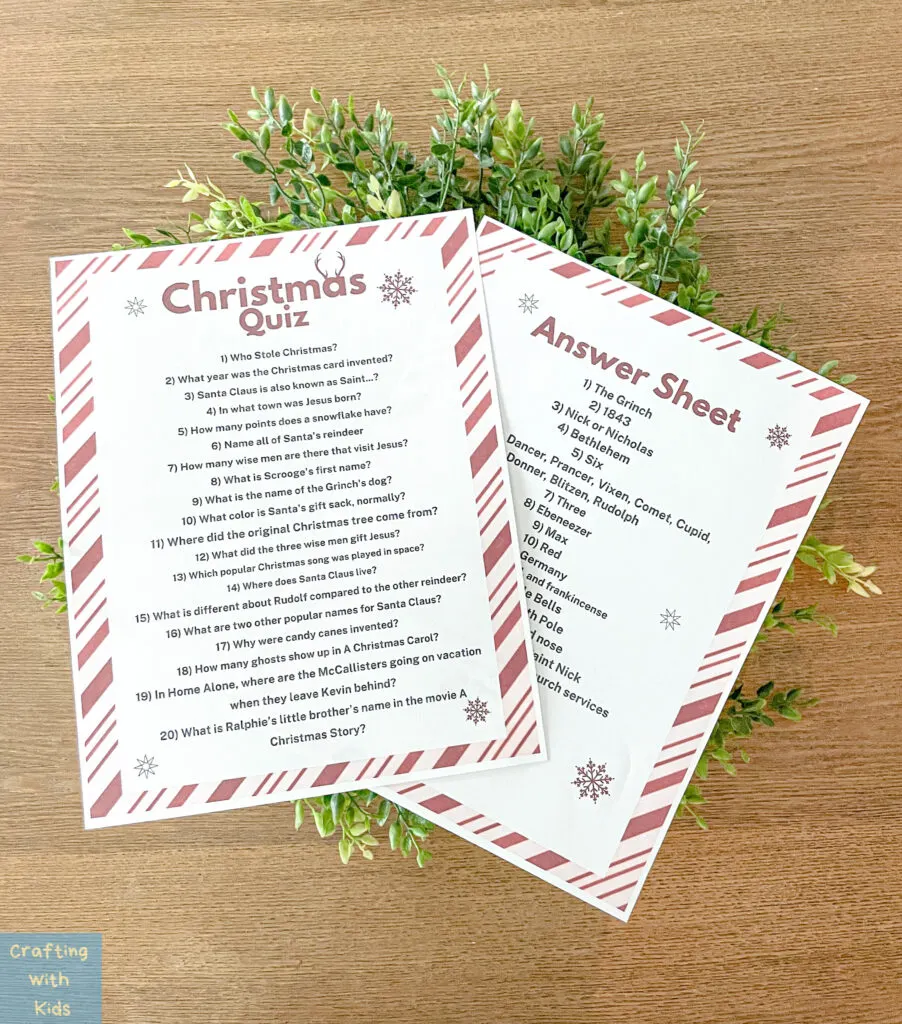 Do you think this is something you would enjoy sharing with your family around the holiday season?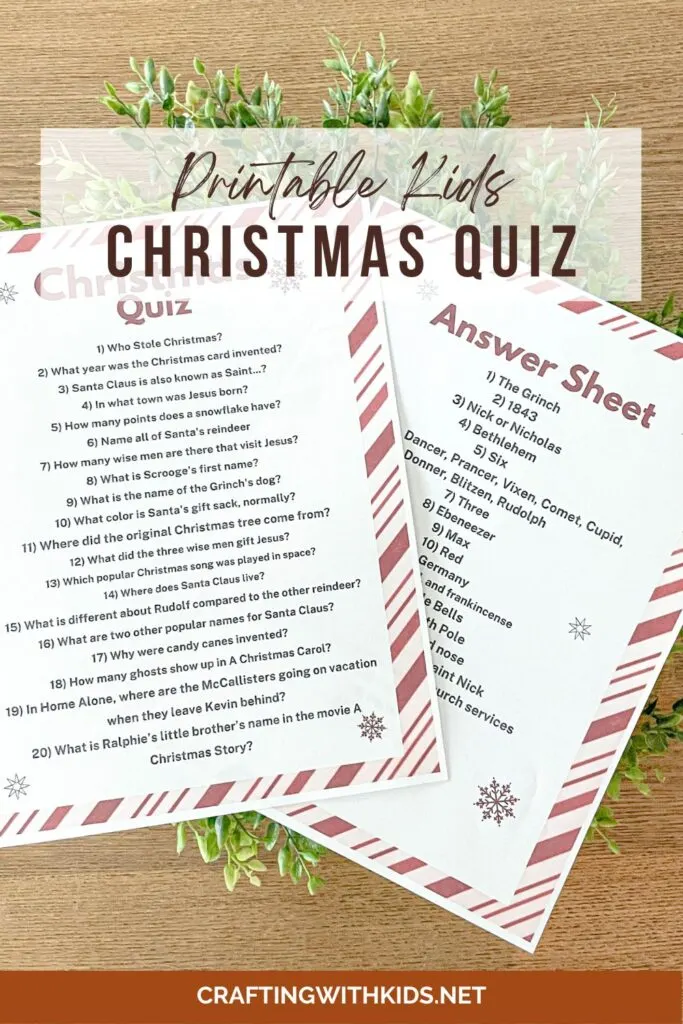 P.S. if you want more free printables, check these out:
Printable Days of The Week Clothing Tags
How to Draw a Rainbow Free Printable
Free Printable Hatchimal Coloring Pages
Don't forget to check out all of our holiday crafts and activities too!
Thanks for stopping by friends!