Looking for a great Elf on the Shelf alternative? Check out our list of eight great options from Amazon that are similar to Elf on the Shelf but they each have a slight twist.
If you have kids that are still in school chances are you've heard of Elf on the Shelf. It has turned into a mega million dollar empire! It's a brilliant idea (and one more things for parents and caregiver to think about during the holidays) but not everyone wants to jump on board.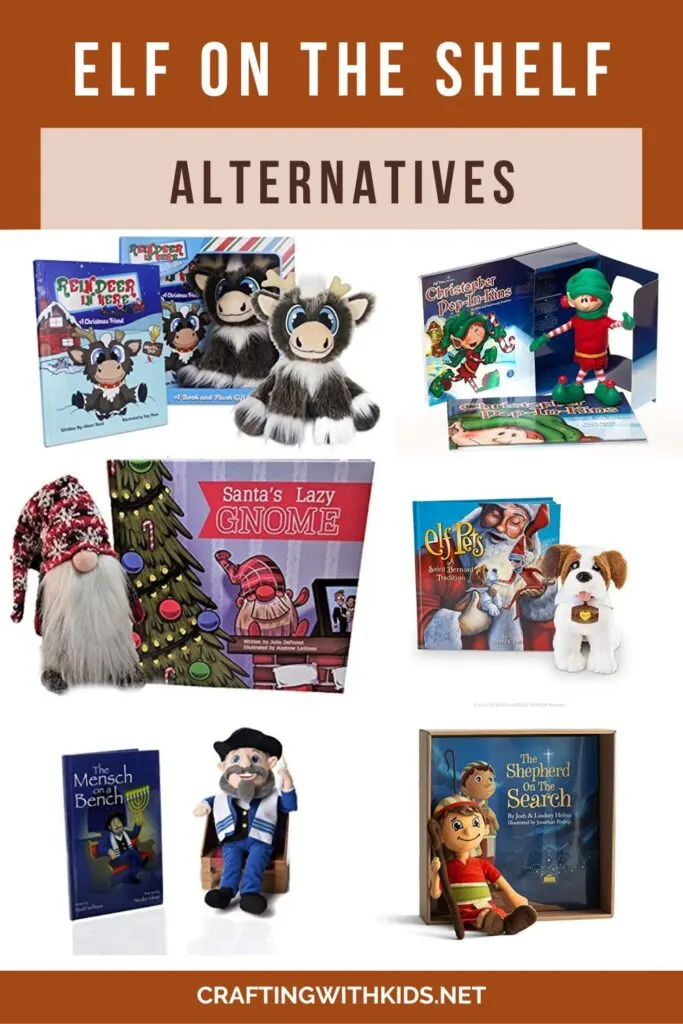 So what if you still want to participate in something like Elf on the Shelf but want something a little different? Today I'm sharing eight great Elf on the Shelf alternatives! All of these products have a similar theme but teach a slight variety to the original Elf on the Shelf.
Don't miss these Elf on the Shelf Idea Kits from Amazon too! P.S. They work with most of the alternatives too!
Disclosure; this post contains affiliate links. As an Amazon Associate I earn from qualifying purchases. This does not affect the price you pay. This disclosure statement refers to the rest of the Amazon links in this post. See more on my disclosure page.
Eight Elf on the Shelf Alternatives
Looking for a great Elf on the Shelf alternative? Check out our list of eight great options from Amazon that are similar to Elf on the Shelf but they each have a slight twist.
The Mensch on a Bench is a NEW Hanukkah Tradition meant to bring families together. Mensch on a Bench was created by a Jewish father who wanted to teach his sons about the Jewish holiday while adding new traditions to the family. The Mensch on a Bench 12'' doll and book! The book tells the 8 rules of having a Mensch, which are meant to drive more jewish family traditions and reinforce the values of a Jewish tradition.
Christopher Pop-In-Kins just loves popping-in for a holiday visit at first lighting of the Holiday Tree; staying till the last ornament is stashed away. The Christopher Pop-In-Kins set includes a pose-able, safety-tested Christopher Elf, plus a fantastic 24-page, hardcover storybook. Pop-In-Kins are hide-and-seek Children's Elves who've been popping-in homes every festive season as a playful, magical tradition for 30 years.
If you are still wanting to incorporate the Elf on the Shelf tradition but want a slight variety to your elves, try these smaller versions of the Elf on the Shelf. A miniature replica of the original full-sized Elf on the shelf, World's Smallest is less than 4 inches from the tip of his hat to the bottom of its feet and is fully articulated.
The Santa's Lazy Gnome tradition is great for a family with a busy life and who might not be up for wanting to move the elf every night. This is an Adorable and easy to maintain Elf on the Shelf alternative with No hide & seek or silly games to keep this Santa helper around. Santa sent The Lazy Gnome to help with the Naughty/Nice list. These mysterious friends report to Santa if you're naughty or nice, even when you're out of sight.
A Saint Bernard Tradition is a complete kit that comes with a St. Bernard stuffed animal made of the softest plush Santa could find. Your pet comes with an illustrated storybook just like the elf, and wears a barrel around its neck with a golden heart charm to show just how much they love you, your family, and your elf. This heartwarming tale encourages children to perform acts of kindness throughout the Christmas season alongside the Saint Bernard pup included in this box set. Kids will learn how helping others creates the Christmas cheer Santa needs to fulfill his Christmas Eve duties and more!
Rather than searching for the regular Elf on the Shelf, you can search for his Reindeer! Made by the same Elf on the Shelf company, it follows all the same rules but instead of searching for the Elf, you get the excitement of looking for the Reindeer instead. It also comes with a book which tells the story of how reindeer use Christmas magic to help Santa's sleigh fly on Christmas Eve.
This Christmas nativity set features a cute 9.25 inch plush shepherd and a 9" x 9" hardcover, The Shepherd on the Search storybook. You and your family begin reading during the Advent season and enjoy fun family moments searching for YOUR shepherd. It also comes with one reusable nativity keepsake box (Size: 11¼" x 9¾" x 3") for easy storage and use year after year. Help little ones discover the joy of finding Christ in Christmas. This is a great Christian alternative to Elf on the Shelf.
This is a great holiday tradition with your kids that is similar to Elf on the Shelf! The Reindeer comes to visit at holiday time and wants to learn all about each child, & to celebrate that being different is normal. Created by a dad who wanted a POSITIVE Christmas tradition for his children that celebrated their individuality. Reindeer In Here's shortened antler helps kids recognize that being different is normal. Each child names their Reindeer and decides if it is a boy or a girl making it equally as unique as they are.
I hope you found a few other options especially if you're on the fence about start Elf on the Shelf.
Thanks for stopping by!