My full review of the Greenlight Card for kids. I've shared my experience as a mom and how the Greenlight Debit card has helped teach my kids about money. See all my thoughts on this Greenlight card review.
Teaching kids about money early is always a good idea right? After all, spending habits and how to save isn't taught in school (not most schools at least). I chose to purchase the Greenlight Debit cards to teach my kids a few ways to save, spend and even invest their money.
Let's first discuss some questions about the card;
FAQ about Greenlight Card
What is Greenlight Card? Greenlight Card is a debit card designed for kids and teens that parents can control and monitor through a mobile app. It allows parents to set spending limits, track their child's spending, and teach them about money management.
How does Greenlight Card work? Parents can sign up for Greenlight Card and create accounts for their children. They can then transfer money to their child's account and set spending limits and categories. Kids can use the card to make purchases online or in-store, but only up to the amount that their parents have allowed.
Is Greenlight Card a credit card? No, Greenlight Card is a debit card that is linked to a parent's bank account. Kids can only spend the money that their parents have loaded onto the card.
How much does Greenlight Card cost? Greenlight Card costs $4.99 per month per family, which includes up to five children's accounts. There are no transaction fees or other hidden fees.
Is Greenlight Card safe? Yes, Greenlight Card is safe and secure. It uses encryption to protect personal and financial information, and parents can lock or unlock their child's card at any time through the app.
What age is Greenlight Card appropriate for? Greenlight Card is designed for kids and teens ages 6-17. Parents can set age-appropriate spending limits and categories based on their child's age and financial literacy.
Can Greenlight Card be used internationally? Yes, Greenlight Card can be used internationally anywhere that Mastercard is accepted. However, there may be foreign transaction fees associated with using the card outside of the United States.
What I like about the Greenlight Debit card
The thing I like the most about the Greenlight card is that we can make purchases online and in stores for my kids directly from their cards. In the past I had to take cash from their piggy banks and deposit it into my account then make purchases. Not that there is anything wrong with that, but I want to teach my kids that just because you have a plastic credit card, that doesn't mean you can swipe it or run it endlessly. 😉
Also, my son loves to play games like Fortnite. Rather than having my credit card on file, I can put their credit card on file. This gives me more peace of mind that if their card got hacked (or misused) it wouldn't be my credit card in peril.
Edited to add: I used to be able to add my kids debit card to Roblox but have since heard that they don't accept it anymore. If this is your only reason to purchase the card, make sure to check the updated payment methods before purchasing it.
My other favorite thing about this card is controlling their allowance by the click of a button and not having to worry about cash. Let's be honest, dividing cash out for my kids for allowance was always a pain since I rarely have much cash anyways.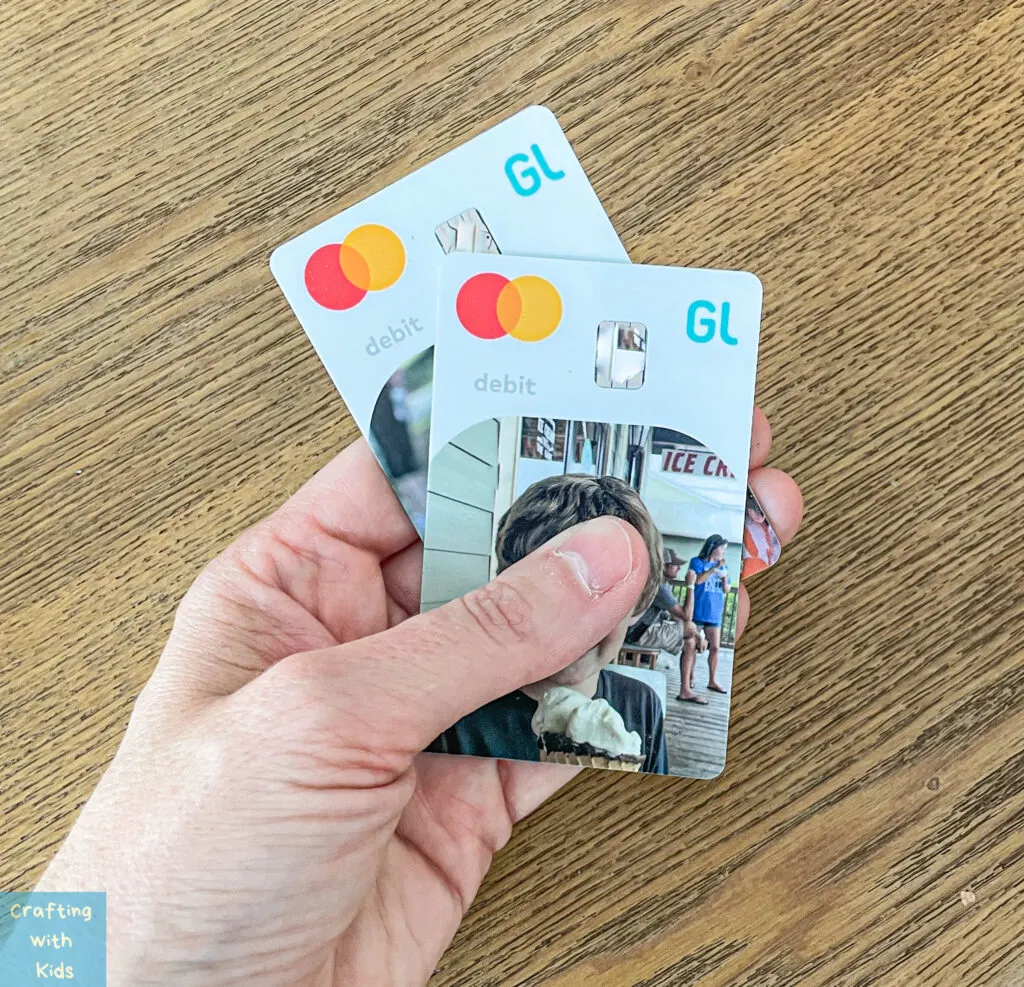 What I don't like about the Greenlight Debit card
There is a small fee to maintain the Greenlight card depending on which plan you choose. I realize that this is probably inevitable, but either way it's one thing I don't like about it. After all, you can probably find a "free" checking account service for kids. Unfortunately, I haven't found a checking account that has all the perks of this card.
The only other "con" I can say about this card is a small security issue. I would like it if you could fund the parent wallet through something other than a direct bank account or debit card.
How does the Greenlight Debit card work?
The best way I can explain the Greenlight Debit card is that it's similar to a PayPal account where you can "connect" your bank account to it and control the money that goes in and out of it from an App on your phone.
That being said, it's not connected to a physical "bank" so to say.
Can you connect cash Apps and other credit cards to fund the Greenlight card?
You can only fund the card by connecting it to a bank account or debit card, not a cash App like PayPal.
This might send some safety concerns for some parents, which I get.
How easy is it to transfer money to the Greenlight card?
When you set up the card initially, you set up a "parent wallet" and then a "kids wallet." You can see below the "home" button is the parent's wallet. The two "E" button's next to it are both of my kids. I can toggle over to their "wallet's" and see how much money they have or simply add money to their account with the "Add" button on the parent's wallet screen.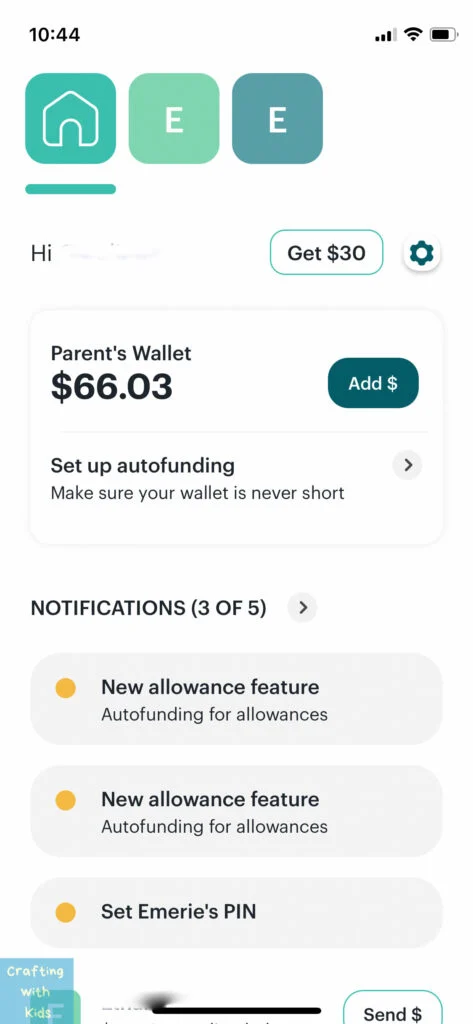 How does the Allowance work?
Like I said earlier, this is my other favorite thing about this card. You can automatically send your kids allowance on a certain day of the month. The best part? You can set requirements or chores for the Allowance. You will get a notification before the money is transferred that asks if your child has completed the "chores or requirements" for the allowance.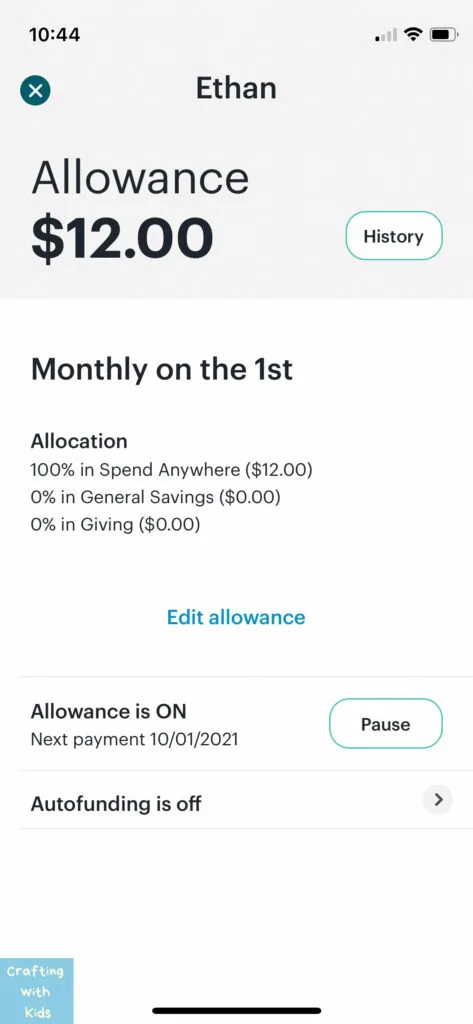 What saving and spending options are available on this card?
When you set up your kids wallet, you will see a "spending" and "savings" option. When the card is used, the money will be transferred from the "spending" section only. I like that my kids can have the option to "save" money even without opening a savings account.
You can also have a portion of their allowance set to go to both savings and spending. This can help teach kids to start saving money while earning it.
There is even an option for "giving." What a great thing to teach kids at a young age.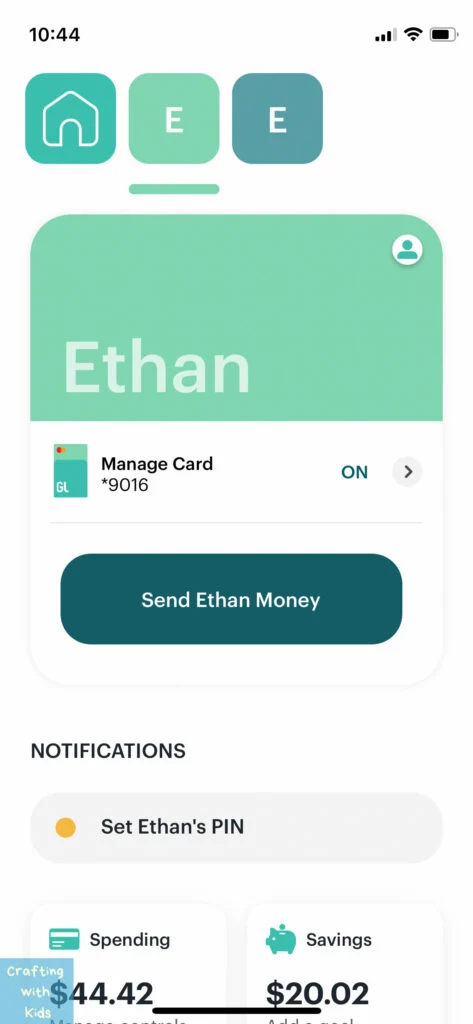 What about Investing with the Greenlight Card?
There is an option to be able to invest money with the Greenlight App. With this, your kids can invest in the stock market with stocks and exchange-traded funds (ETFs). This does require a more expensive monthly fee but might be worth it if you are looking to teach kids about stock trading.
Personally we have not bought into this option as I feel that my kids are too young for this now. I do like the option to turn it on later though.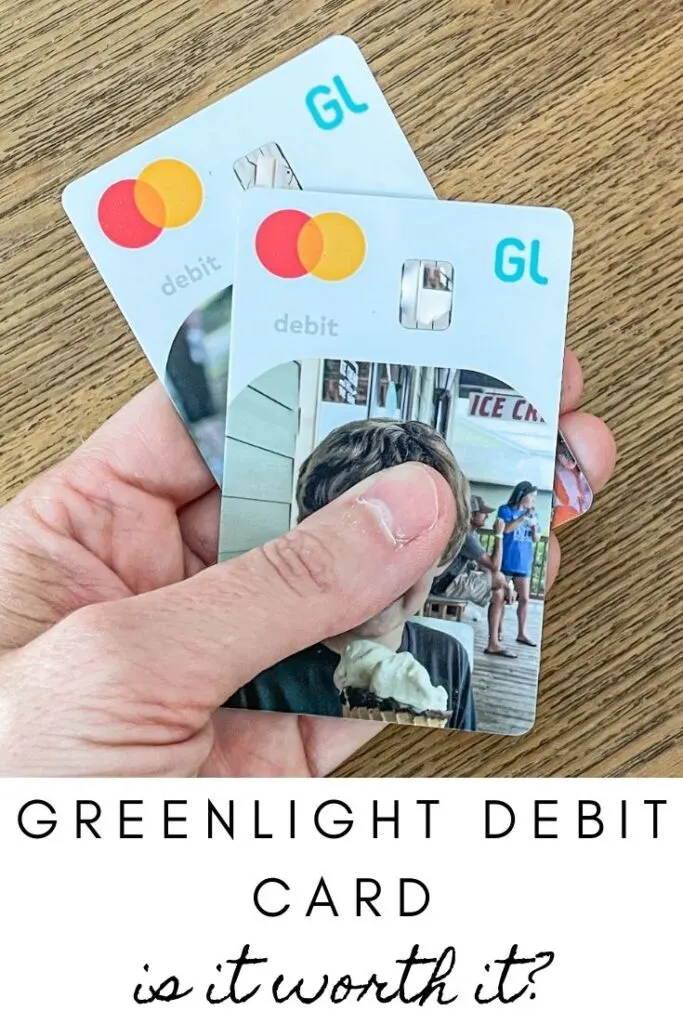 Is the Greenlight card worth it?
Even with the small monthly fee I do think this card is worth it. It has been very helpful to our family in teaching my kids about money and saving. I love the ease of giving my kids their allowance without having to worry about cash. Overall, I would recommend this card.
If you are looking for a similar credit card for kids, I've got another post about the three best cards for younger kids.
Thanks for stopping by!