Learn how to make a homemade Disney memory book or Disney photo book with just a few simple supplies.
In a world full of easy to print photo books, how do you create a fun homemade Disney memory book that your kids will cherish for years? For any kid, a trip to Disney World is a big deal with lots of great memories, right? You want to cherish those memories for years to come. What better way to do it than with a homemade Disney Memory book or Disney Photo book?
There are so many great photo book companies where you can basically drag and drop your photos into a folder and they will print a Disney photo book for you. This is a great option for saving ALL of your Disney memories in one place. That being said, I wanted to create a Disney Memory book that was a little more personalized. What I mean is that I wanted to hand pick the pictures and create more of a Walt Disney World scrap book where my kids could write a few notes on the photos.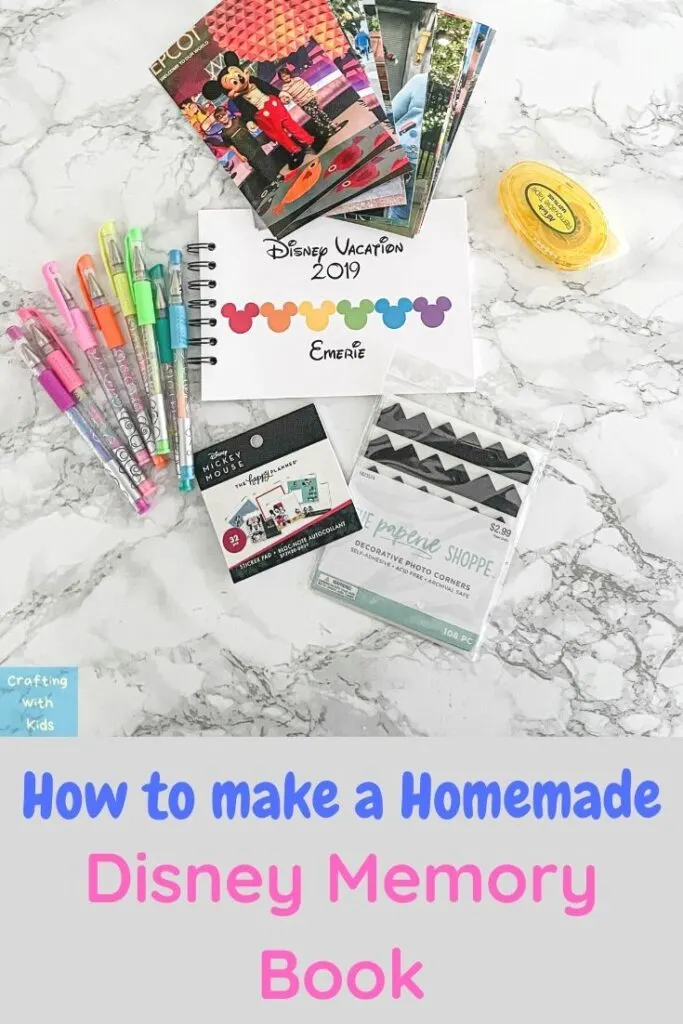 Personalizing each of my kids Disney photo books with their own handwriting makes it more memorable in my opinion. If your kid(s) can't write yet no worries, just ask them questions and write what their answers are. I would encourage a little of their own touch like with a few of their own pictures or doodles. You can even save a few of your Disney pictures in a DIY photo ornament or photo keepsake that you can learn to make here!
Tips to make a simple Disney Memory Book or Photo Book
Rather than purchasing a regular old photo book, try purchasing a personalized memory book with your kids name on it. Etsy has a ton of memory books you can purchase that will have your kids name's on it! Let me show you the personalized Disney books I purchased for my kids.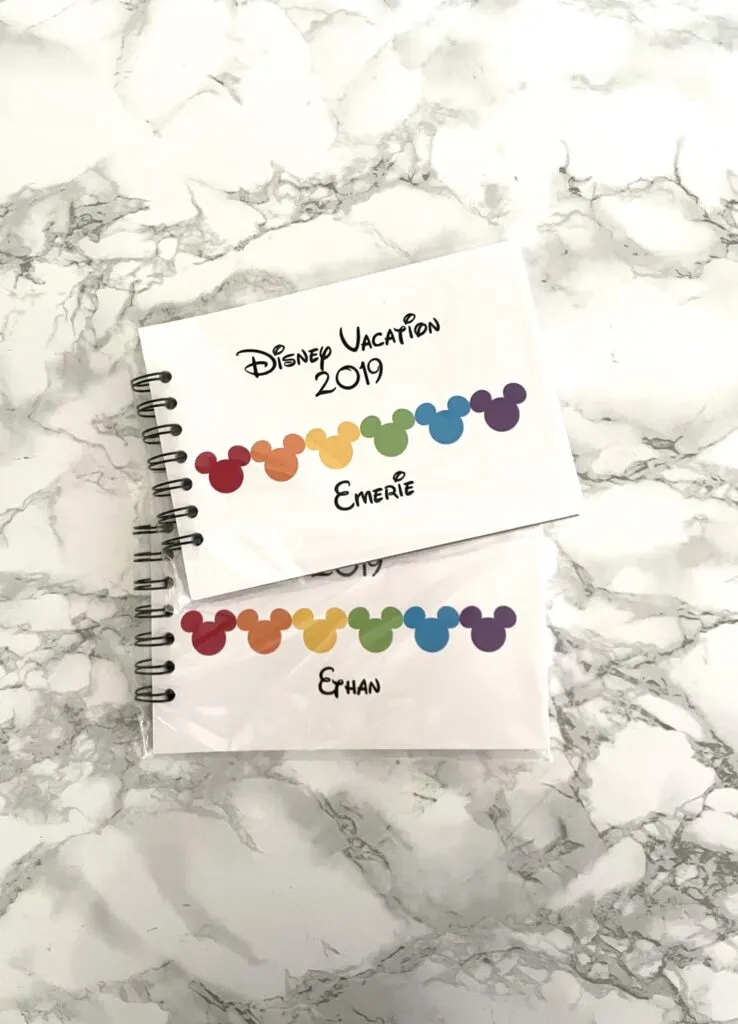 These are simple Disney autograph books with plenty of blank pages to display anything you want! They are actually intended to be used for the character's autograph's but I always planned to add pictures to them instead. This particular memory book does not have any photo sleeves, although you can have it made to include picture sleeves. I think I might include a handful of photo sleeves for the next Disney trip we make.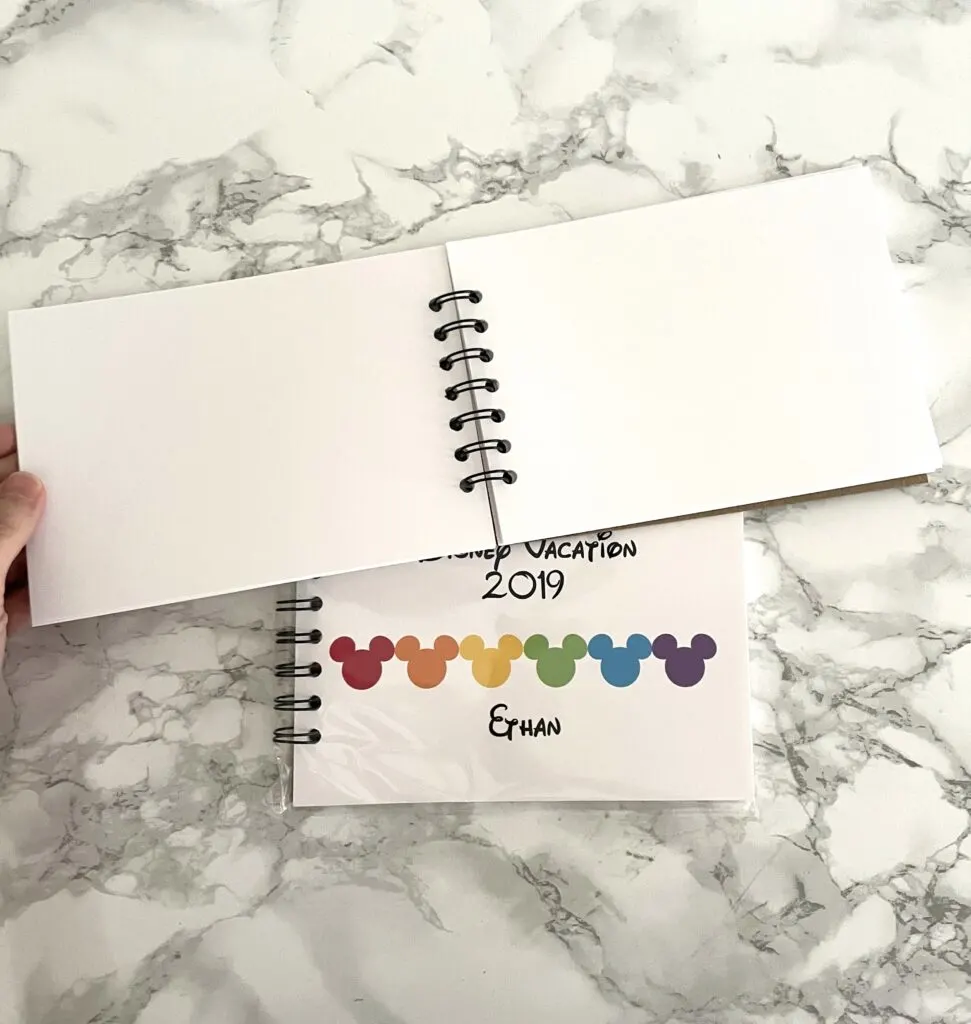 Like I said earlier in the post, another great tip is to allow your kids to personalize the book with their own notes or drawings. It might seem silly at the time, but being able to look back over the years and see their own handwriting and doodles will make the book that much more memorable!
Another important tip is to make sure you write the dates down. This is important especially if you take multiple trips to Disney with your kids. This way you will never be confused as to which book corresponded with which trip. I opted to have a book made with the year we took the trip on the front so we would always know which trip this was.
I purchased fun sparkly markers for my kids to use in their memory book. For some reason, kids will be more excited to write and draw when they have something fun to write with!
When you are purchasing a Disney memory book, make sure to note the amount of pages it comes with. If you are someone who likes to take a LOT of pictures, make sure you get a larger book or one where you can add pages if you need to. Also, if you are looking to create more of a Disney scrap book, make sure to buy a much larger (possibly 8.5″ by 11″) book to add all the Disney things in.
You can purchase lots of different types of memory books while you're at Disney World, but as you probably can guess, the price will be much higher! I prefer to search the web before I go to get the best deal and to make sure I get the exact type of book that I need.
Plan for a few (or three) weeks to ship the memory book just in case. I made a rookie mistake and ordered mine only 8 days before we left expecting it to be delivered by then….NOPE. It took a good 2 1/2 weeks to be delivered. This is probably due to the fact that they are monogramed with my kids name on them. Because you are probably custom ordering them, make sure to allow ample time for delivery.
Of course, if you're not planning on taking them on the trip then it doesn't matter if you have your memory book or not. I was hoping for my kids to get a few of the character signatures while we were there, but oh well. They didn't seem to care that much.
How to make a homemade Disney Memory Book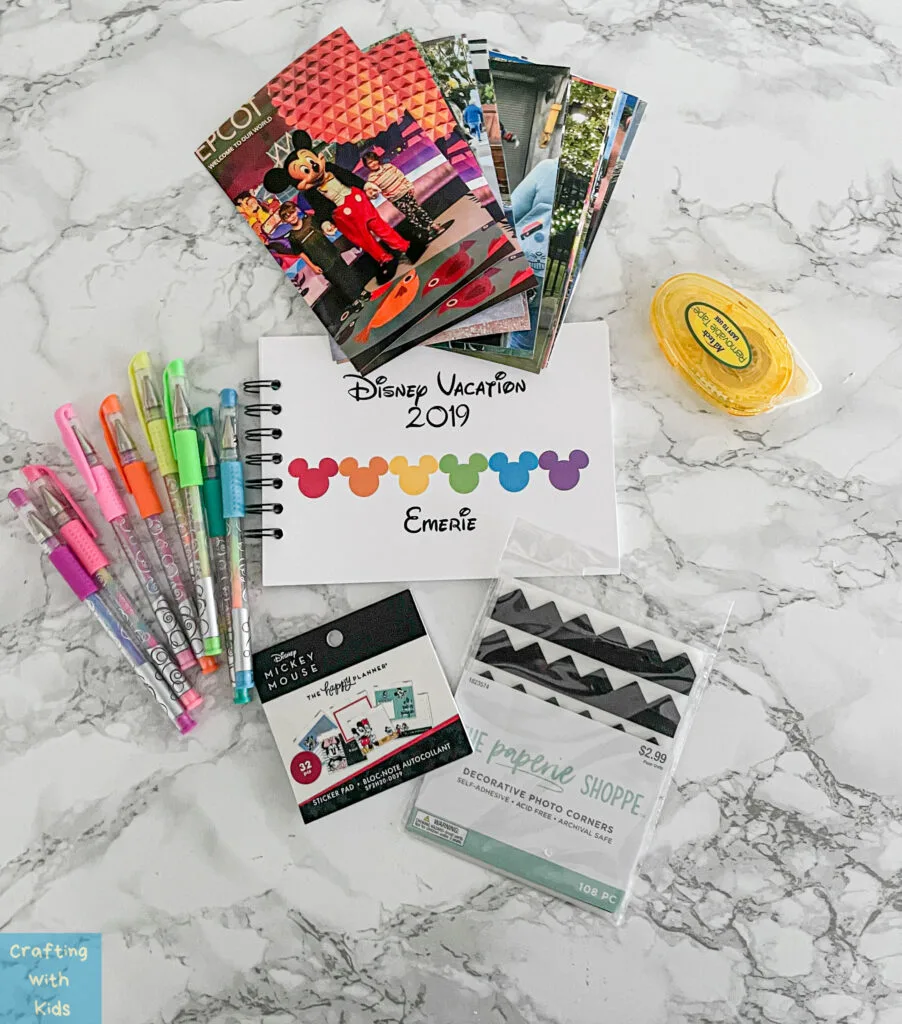 Disclosure; this post contains affiliate links. As an Amazon Associate I earn from qualifying purchases. This does not affect the price you pay. This disclosure statement refers to the rest of the Amazon links in this post. See more on my disclosure page.
I only needed a few supplies;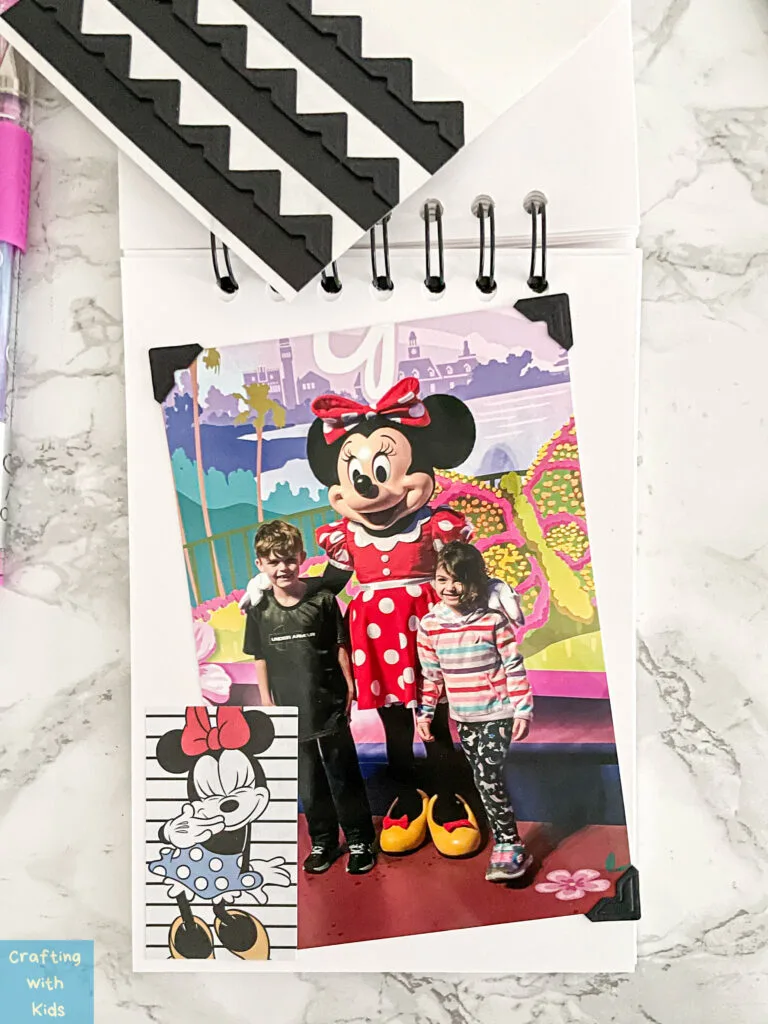 You can see I turned the book vertically and I'm pasting one photo on the bottom. I'll leave the top of the page for my daughter or son to write/color or doodle on.
By the way, these photo corners really dress up a regular old photo and make it look more finished.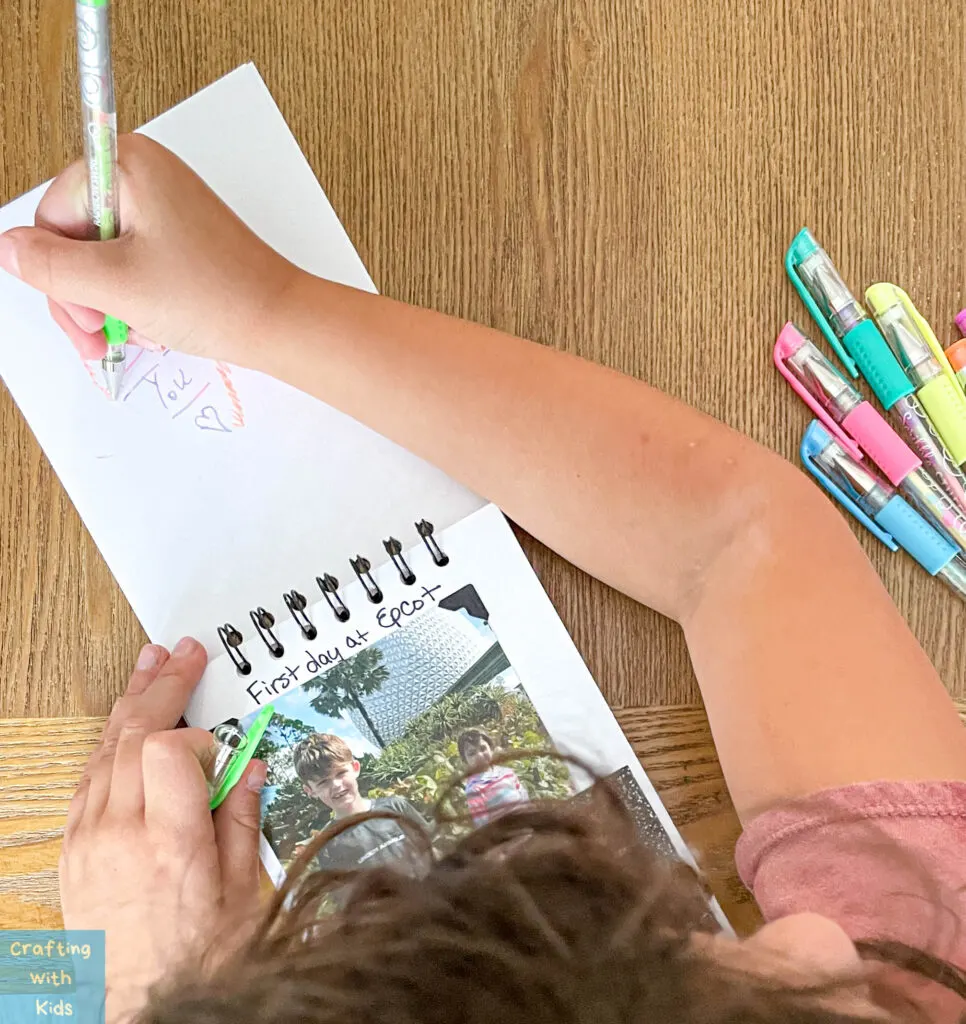 I hope I've inspired you to create an easy and fun Disney memory book. Make sure to include your kids in the making process of this book! They will enjoy recollecting the memories as will you!
Happy Crafting!