Kids will love learning how to create crayon melting art with this fun no carve pumpkin craft. We've shared how to melt crayons on top of a white pumpkin to make a fun Halloween craft.
There is something magical about watching crayon melting art. Kids love seeing how heat can transform something solid into something liquid. See how we melted crayons on top of a white pumpkin for a fun no carve pumpkin craft.
Disclosure; this post contains affiliate links. As an Amazon Associate I earn from qualifying purchases. This does not affect the price you pay. This disclosure statement refers to the rest of the Amazon links in this post. See more on my disclosure page.
Supplies;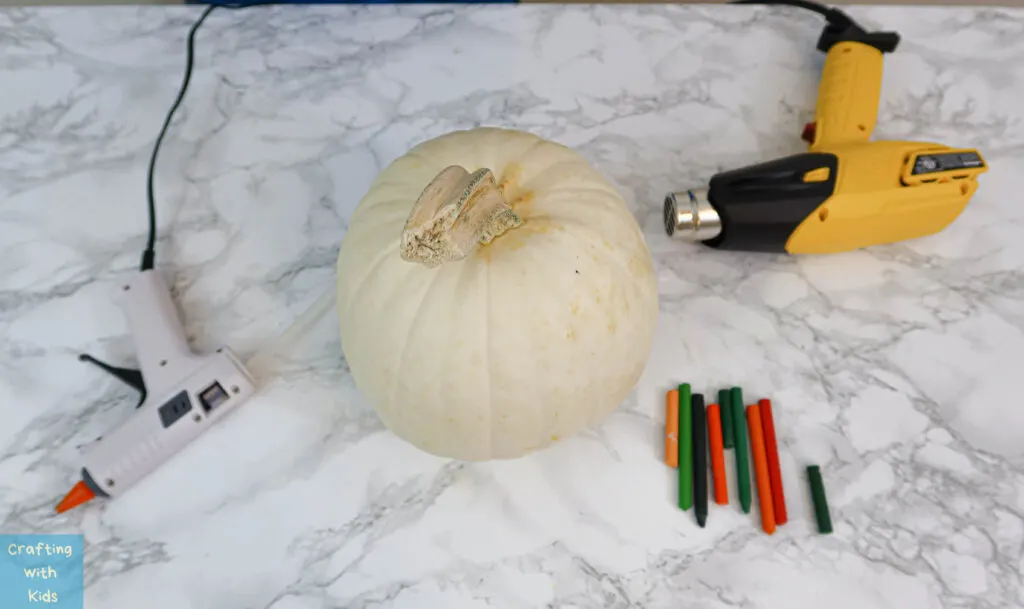 I chose to use a real pumpkin, but a faux pumpkin would work well too! As a matter of fact, the faux pumpkin will obviously last longer and you can keep it for years to come.
How to melt crayons on a pumpkin
Prepare the surface by placing a surface protectant on top of where you plan to work
Remove the wrapper from the crayons
Use a hot glue gun to glue two eyes and a mouth on the pumpkin (optional)
Glue the crayons on top of the pumpkin near the face of the pumpkin
Use a hair dryer or heat gun to slowly heat up the crayons by moving back and forth until they start to melt and drip
Continue to heat the crayons and let them melt until you are happy with how it looks
Let the pumpkin dry for at least 10 minutes until the melted crayons are cool to touch
No carve pumpkin art with melted crayons
I used a crayon to color the eyes and a nose on the pumpkin. Then I used the hot glue gun to "color" where I put the eyes and nose so when the crayons melted it would leave a "face."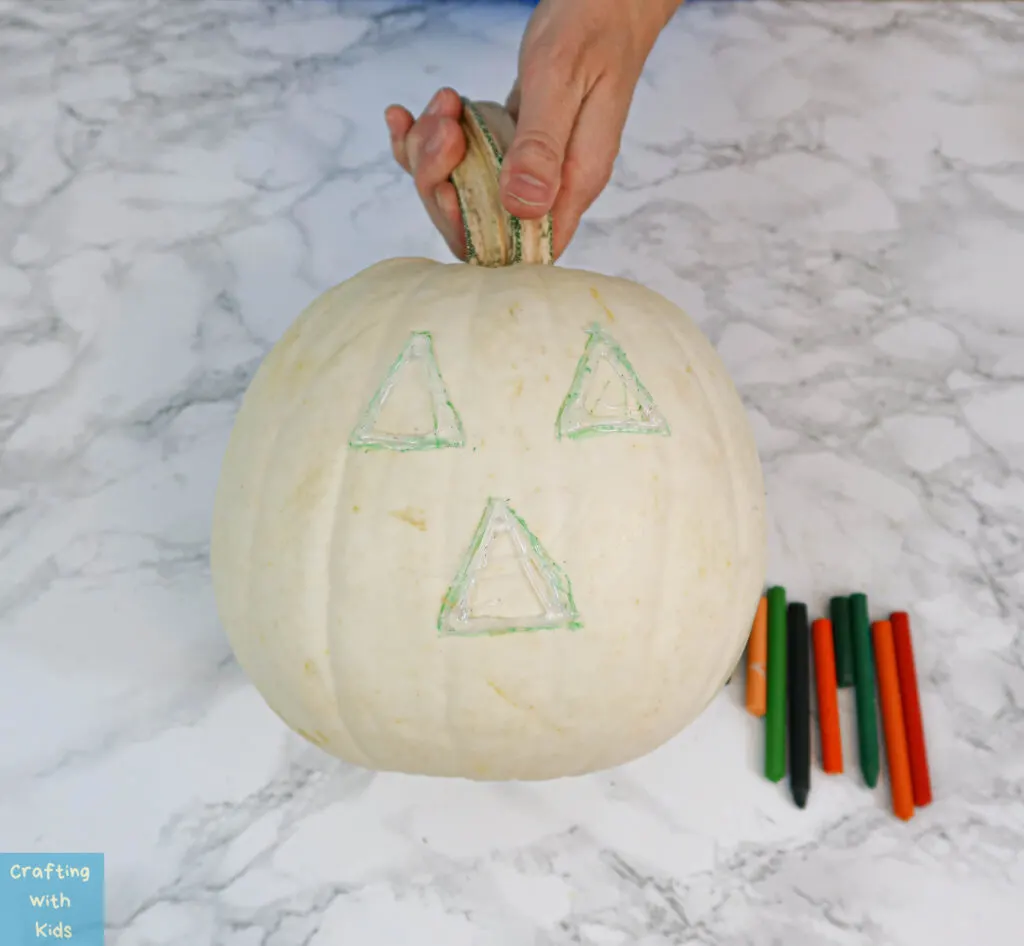 This is totally optional but I thought it added a nice touch.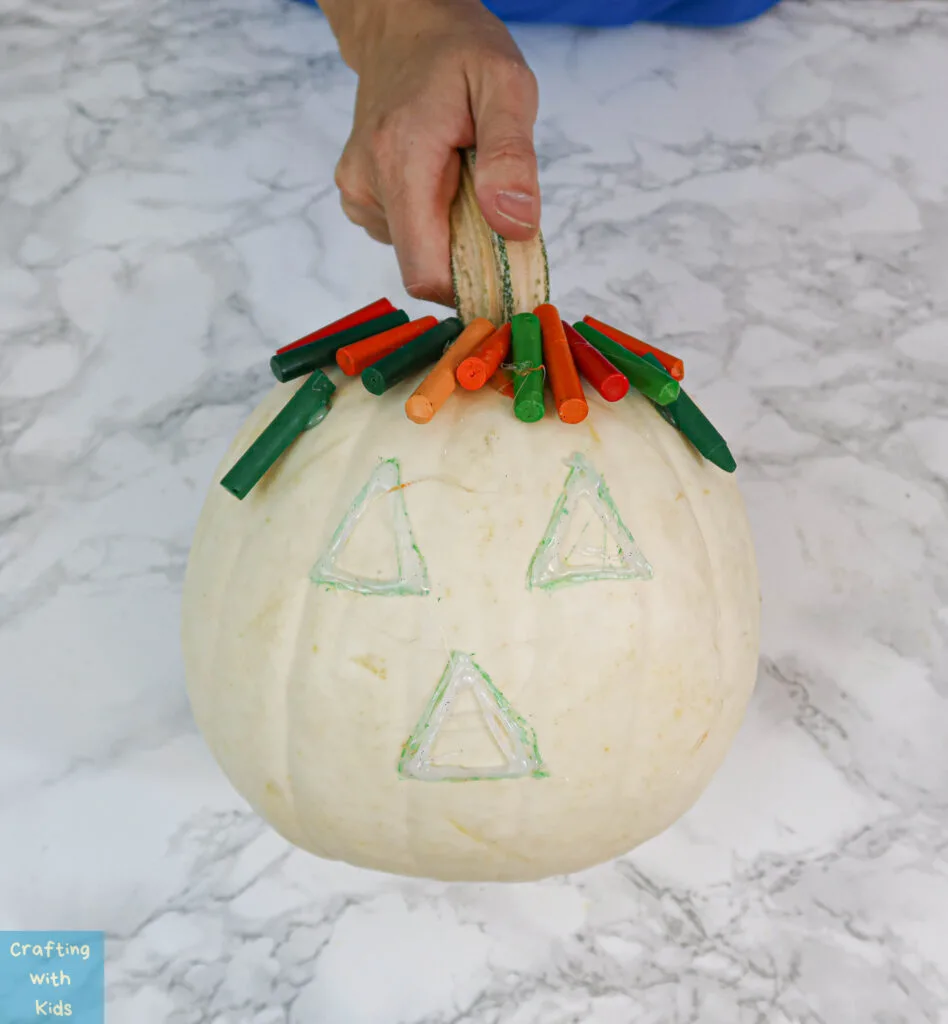 You can see where I glued the crayons on top of the pumpkin. I also used only green and orange toned crayons for a fun Halloween feel. Feel free to glue the crayons anywhere you want to!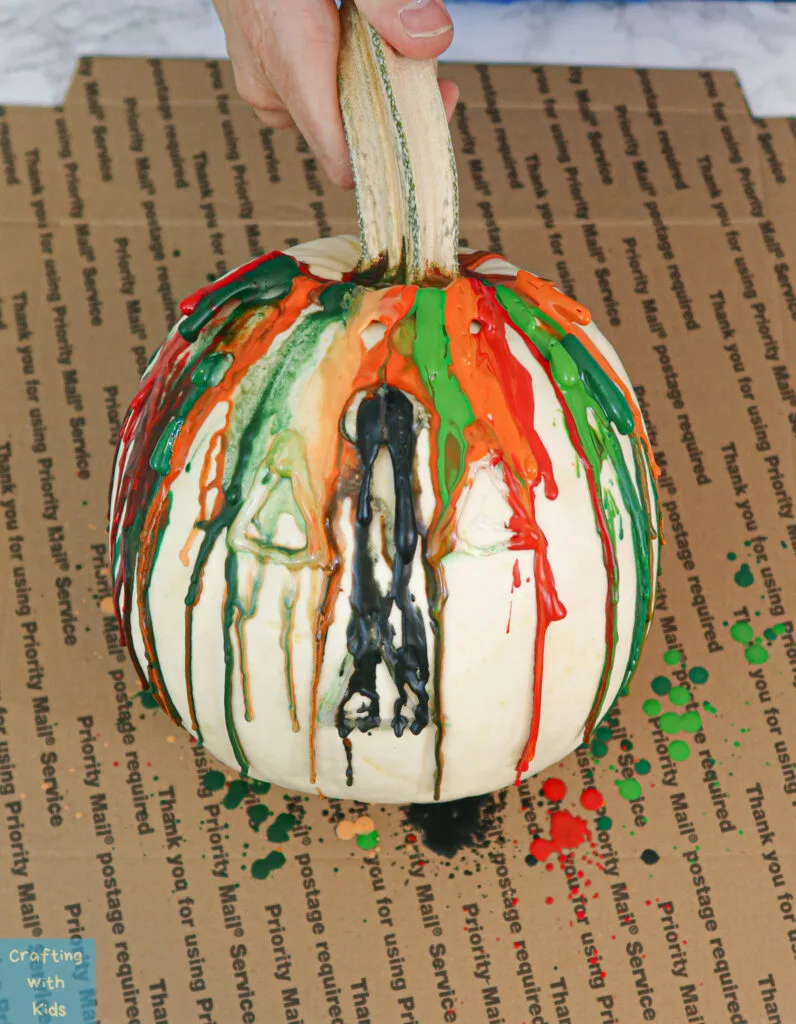 This is what it looked like after I melted the crayons!
I did go back and add a few more melted crayons around the side of the face.
Melted Crayon Pumpkin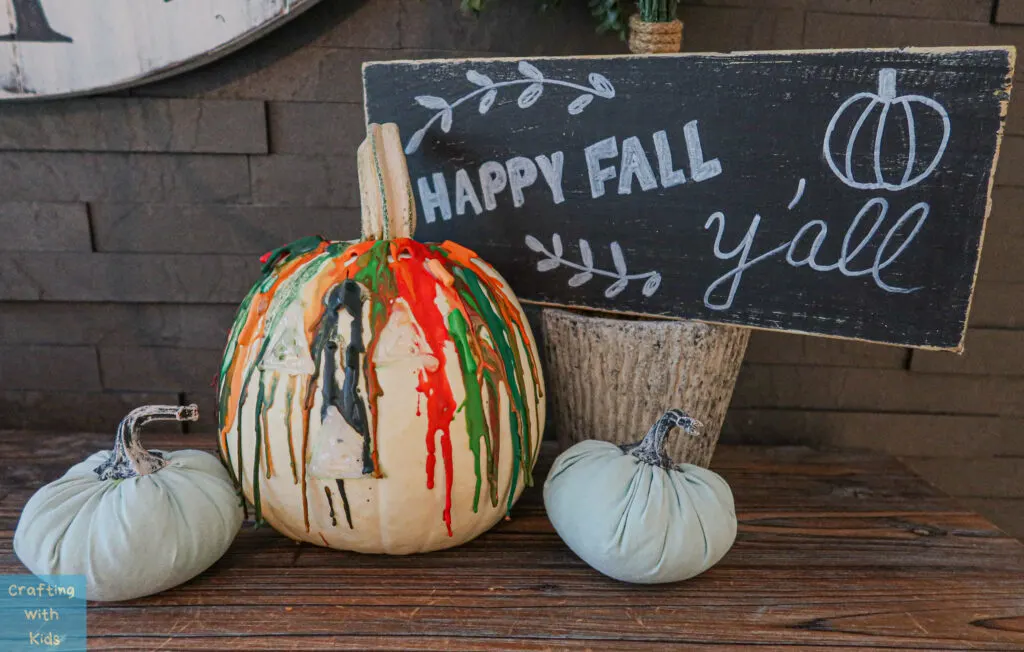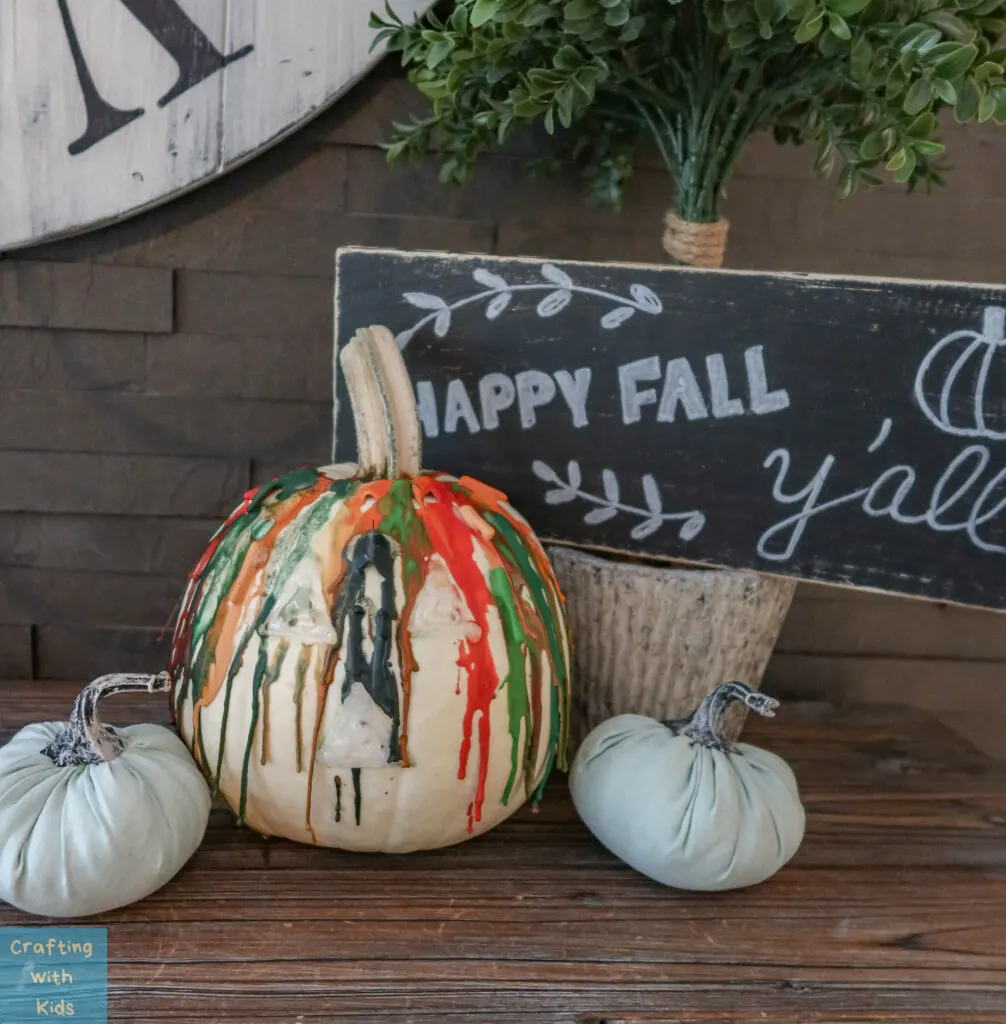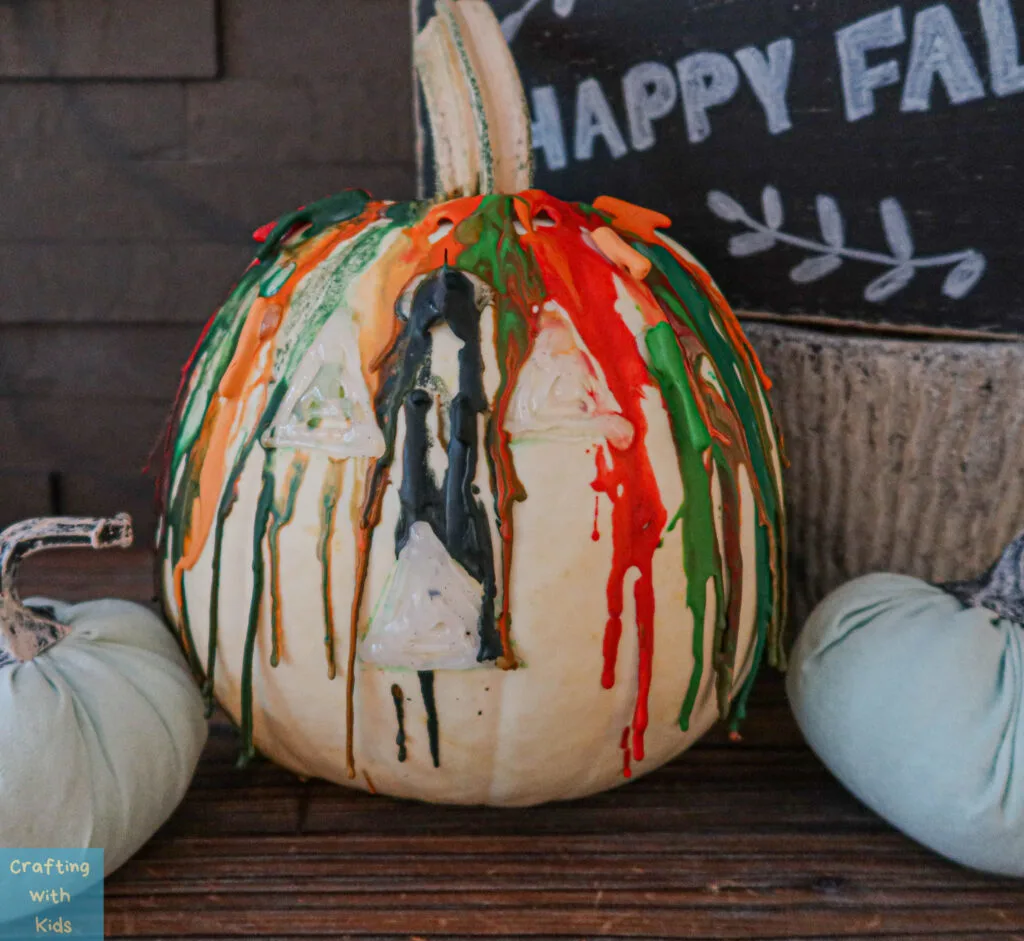 This was such a fun Halloween project to do with my kids. They loved watching the crayons melt. I'll have to add this to our yearly list of pumpkin crafts to do!
Watch the entire process below. Check out our YouTube channel for more fun kid crafts.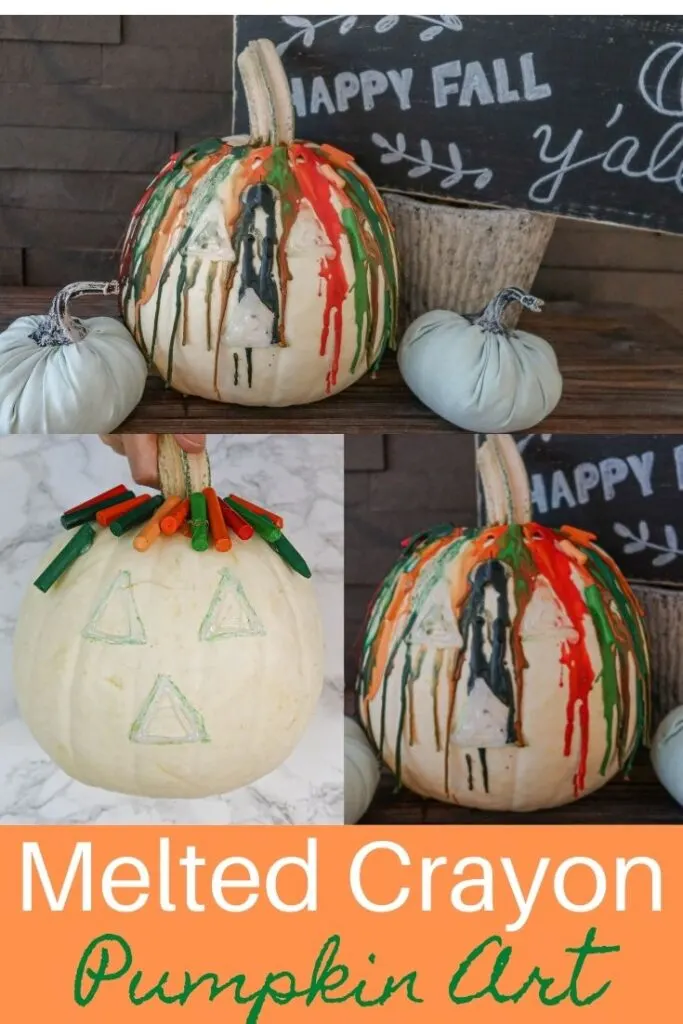 Happy Crafting!