Learn a handful of the best online teaching apps for elementary aged kids in math, social studies, reading and language arts.
No doubt that we are in an age of technology. I bet most school age children might know more about computers than their parents.
Crazy but true right?
With that being said, learning has changed too. Long gone are the days of heavy textbooks and researching with the Dewey Decimal System at the library.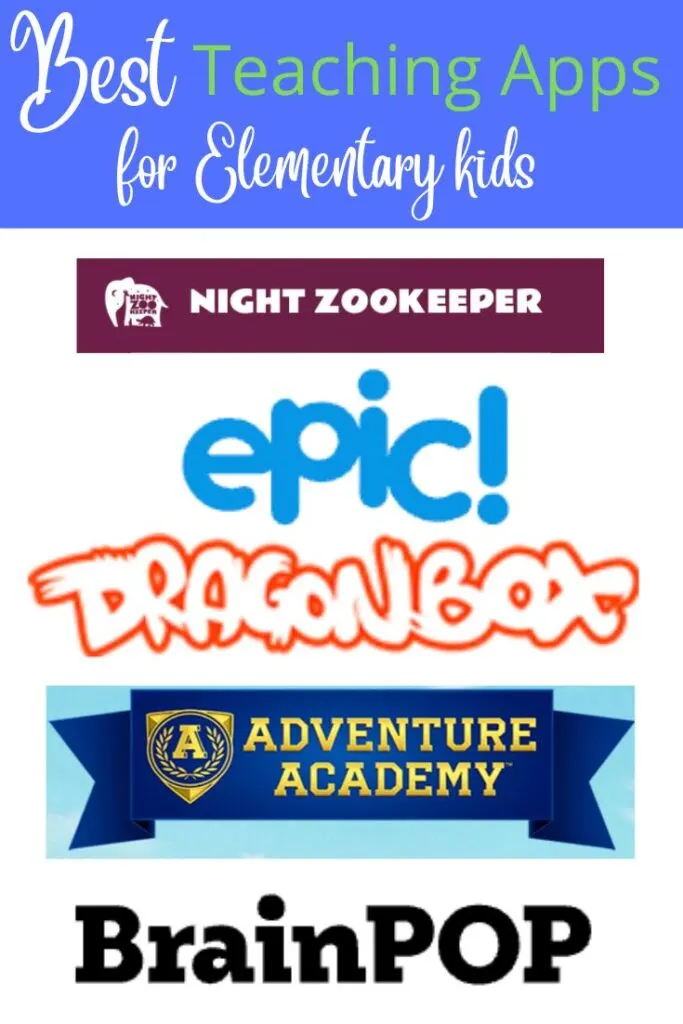 I've tried hard to use my experience with my kids interactions with these apps as well as online reviews to create this list.
Below you will find a list of the "the best" apps for different subjects for Elementary aged kids.
Best math app for Elementary school

Dragonbox is a set of apps that caters to children aged 4-8 and above. It makes learning math fun with lots of interactive games. Each "player" is rated with stars after each activity. Two stars means the player got the right answer after a handful of steps. Three stars and above means the player got the right answer in fewer steps.
It breaks down into sections with age appropriate games in categories;
Numbers
Big numbers
Algebra (5 plus)
Chess
For kids aged 8 and up it has a few more advanced apps you can choose from;
Multiplication
Algebra (12 plus)
Elements
The best thing about this set of apps is they are great teaching tools that are disguised as games.
Price: $9.99 per month or $59.99 per year
| | |
| --- | --- |
| PROS | CONS |
| Printable resources | can't turn off background music |
| Games and puzzles for interactive learning | little to no instruction |
| lots of math levels for different ages | limited to just four players |
| Outstanding graphics | Not a lot of practice |
| Multilingual | |
Best Reading App for Elementary kids who don't enjoy reading

Adventure Academy is made by the creators of ABC Mouse so if your child is already used to ABC mouse they will love this app.
While Adventure Academy offers content in more than just reading, most reviews will tell you that it's strength is with reading and language arts.
Adventure Academy is mainly a game, so don't expect your child to be engulfed in reading the entire time they are on the app. That being said, it seems to me (if I'm being a totally honest mom with lots of teacher friends) that the biggest struggle is getting elementary aged kids to sit down and read a book rather than a screen. Since most kids are so used to reading from a screen, if you entice them with a few games it will make them more inclined to read.
Like I said, this is totally my opinion but coming from a mom who has struggled to get their kids to read, this app really worked!
Let's get to some facts about this app.
Adventure Academy is a virtual school where you create your own character and walk around the school going into different classrooms, seeing other students (yes you can communicate with them too), getting assignments from different teachers, and finding challenges at kiosks.
Although this app can teach most subjects you find in an Elementary school, I do feel that it's strength is in reading.
Price: $12.99 per month or $59.99 per year
| | |
| --- | --- |
| PROS | CONS |
| Safe virtual reality play | Lots of distracting games that don't enforce learning |
| Unable to skip levels of learning without completing current ones | drains device battery quickly |
| Fun interactive games | |
| Great graphics | |
| Enforces reading at every level even when choosing other subjects | |
Best Reading App for Elementary Aged Kids who Enjoy Reading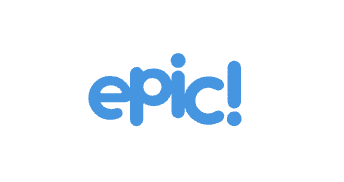 Epic! is a great reading app that gives you access to tons of books, quizzes and videos. They have 40,000+ popular, high-quality books from 250+ of the world's best publishers. Chances are if you are looking for a book, they probably have it.
If you aren't a fan of going to the library and prefer to read on a device, this is a great interactive app that provides lots more than just the book. You can choose to have the book "read to you" for younger kids who aren't quite ready to read on their own. Then you can have your kid take a quiz to make sure they understood what they read.
Price: Free for teachers and librarians. Otherwise there are three options:
Free for access to 1 book a day with a limited library
Unlimited books with 40k+ books, audiobooks & videos for $79.99 if paid annually
Unlimited books with 40k+ books, audiobooks & videos for $9.99 if paid monthly
Best Social Studies app for Elementary aged kids

BrainPOP offers content in a handful of subjects. This is a video driven learning platform that allows you to watch a short video about the subject first before you dive into other interactive ways to learn. Our favorite subject that they offer is social studies. You can find a million apps and resources for math, reading and language arts, but social studies is a little less popular.
That being said, this app does a great job of laying out useful information about social studies topics in an easy to use format (mostly video) that's fit for elementary aged kids.
Most of their topics are split up into two groups:
While using BrainPOP, you click on the topic you are interested in, then you can watch videos, read information, take quizzes, complete activities, even make jokes about the topic and more!
Price: $14.95 per month or $119 a year
| | |
| --- | --- |
| PROS | CONS |
| Lots of interactive videos, games and quizzes | Not super age specific |
| Great teaching tools for teachers | No parental controls |
| Simple to use especially for younger kids | |
| App been around more than 20 years | |
Best Language Arts app for Elementary aged kids

Night Zookeeper offers a complete curriculum in Language Arts to ensure all aspects of this subject are covered. They even provide a team of real tutors to give feedback to your child and help them improve their work.
They also focus on expanding your child's vocabulary so they can be great writers. They also have sentence building games, short writing challenges and other exciting activities to help them use these new words in longer, more complex sentences.
The cool thing about this app is that your child's writing (stories, reports, poems and other styles of writing) will live in a personal portfolio that can be shared with family, friends and a global audience!
This app is geared towards kids aged 6-12.
Price: $12.99 per month or $59.99 per year
Final thoughts
There are loads of teaching apps for kids. Most of these apps have free trials, so it might take a trial and error to find one that fits your child's needs.
I hope this quick list helps you navigate some great apps for your elementary aged child.
Happy learning!