In this fall activity, you will learn how to add letters to acorns to create an Alphabet learning activity. Kids can work on alphabet recognition while learning to put site words together.
Teaching kids their letters at home can be a parents worst nightmare. That's what school is for right? What happened to a parents responsibility to help kids learn outside of school?
Well, let's be honest. Most of the time that's like pulling teeth and it's just no fun (on either party). Letter cards and magnets are neat at first, but they tend to lose their excitement after a while.
What about a fun alphabet learning activity for fall?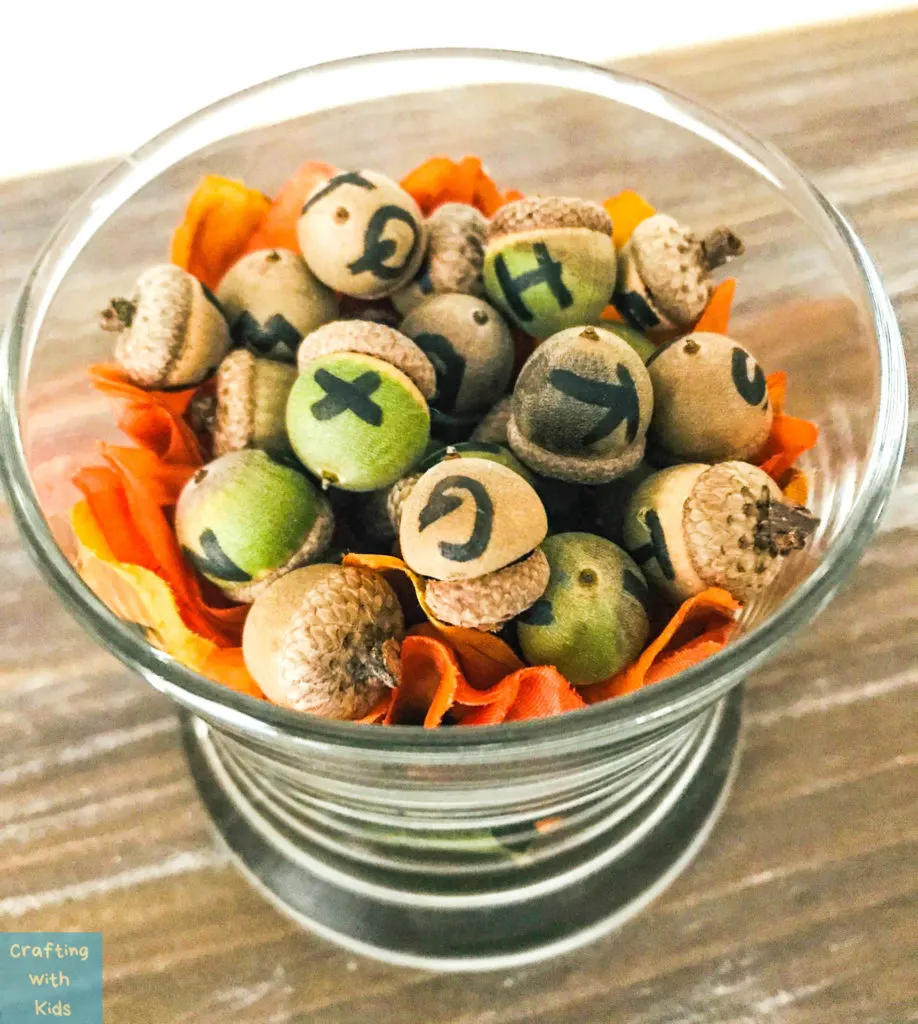 Sometimes all it takes is a simple twist on an old learning activity to create excitement again. My daughter is four, and her desire to learn her letters is non existent. She's in school and studying one letter per week so when she comes home she has no interest in pulling out the old letter cards.
What about going outside and taking a nature hike to find lots of acorns? How about mommy adds letters to those acorns and we can see how many fun words we can create from them. Also, how about YOU (my kid) tell me what each acorn says?
You see how I'm changing the game here?
There is something special about creating arts and crafts from nature, don't you think?
I can definitely say my kids LOVE to create something from nature. My goal is to create more hands on teaching activities with my kids this year, and this is the start!
Not only did we have fun OUTSIDE looking for acorns, BUT we also had fun learning too.
I can finally see a spark in her eye again!
This is no extravagant acorn learning activity, friends.
As a matter of fact, I almost didn't write this post.
For the mama out there who needs a few ideas to help her struggling child learn a few letters, well I hope this helps!
How to make an acorn alphabet learning activity
Before you begin, don't tell your kids that you're going to be learning letters. They will automatically lose interest.
Instead, talk about taking a nature walk to find as many acorns as they can.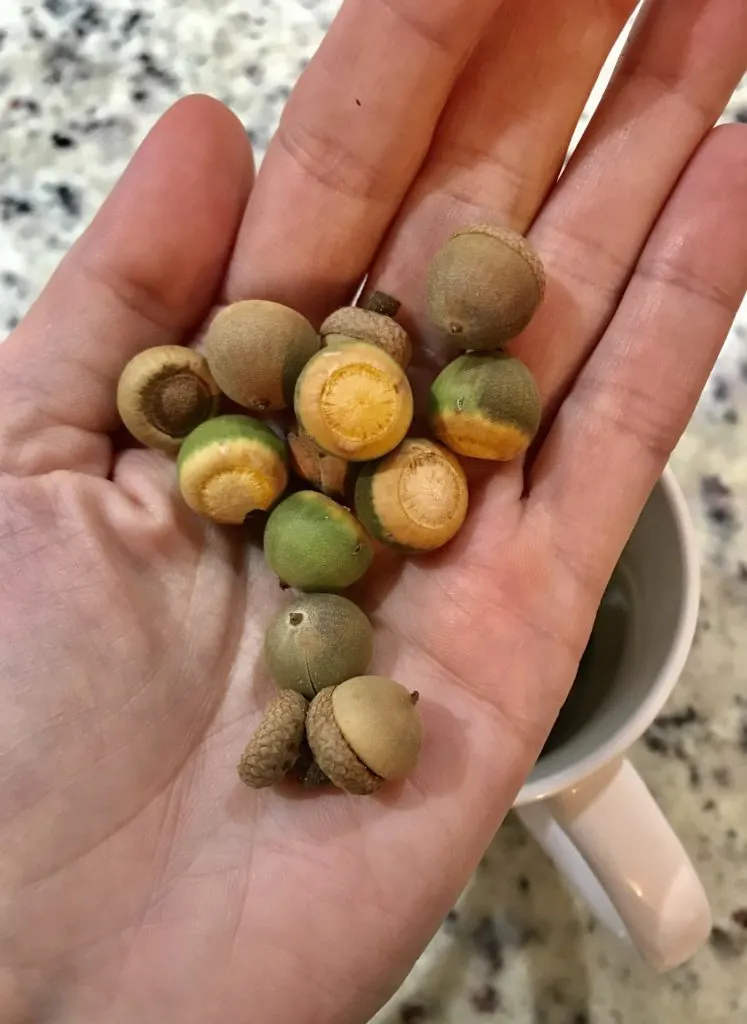 Try to find the acorns that are still whole, without being chewed by the squirrels.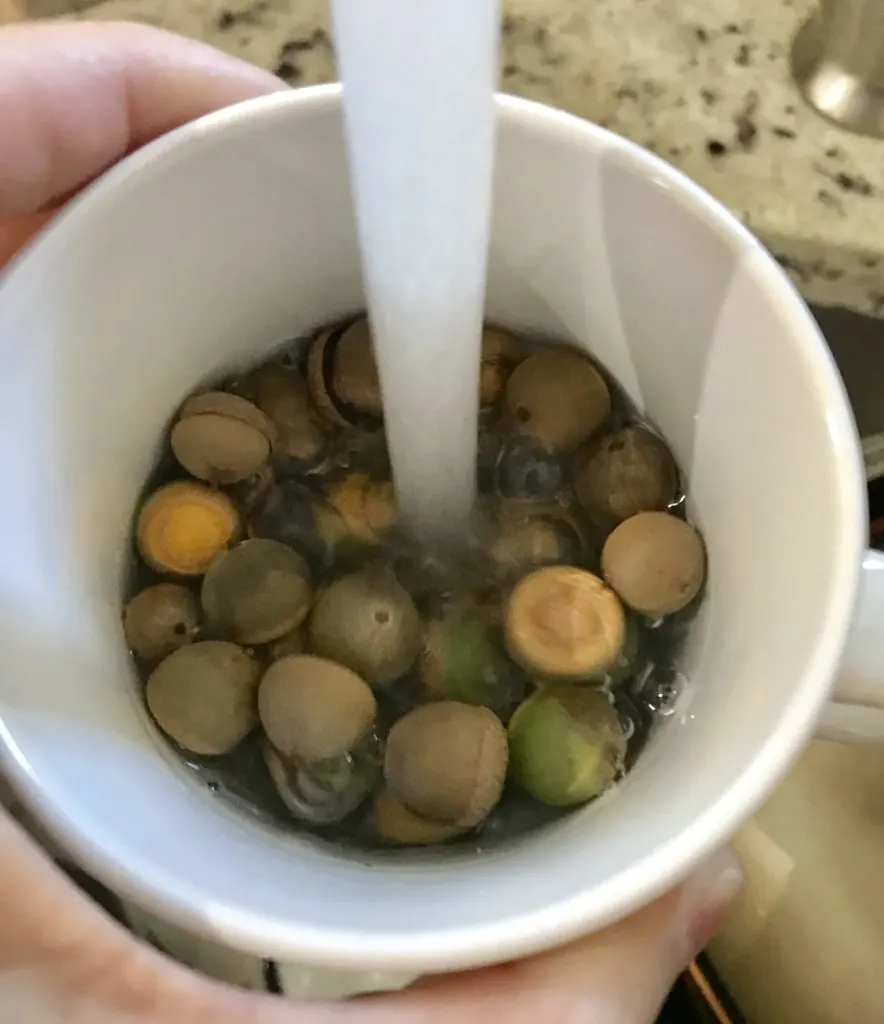 Once you've compiled enough acorns to spell the alphabet, I washed them in tap water to get any dirt off.
You can see not all of them had the little "hats" attached. I opted to hot glue those back on after they were washed and dry.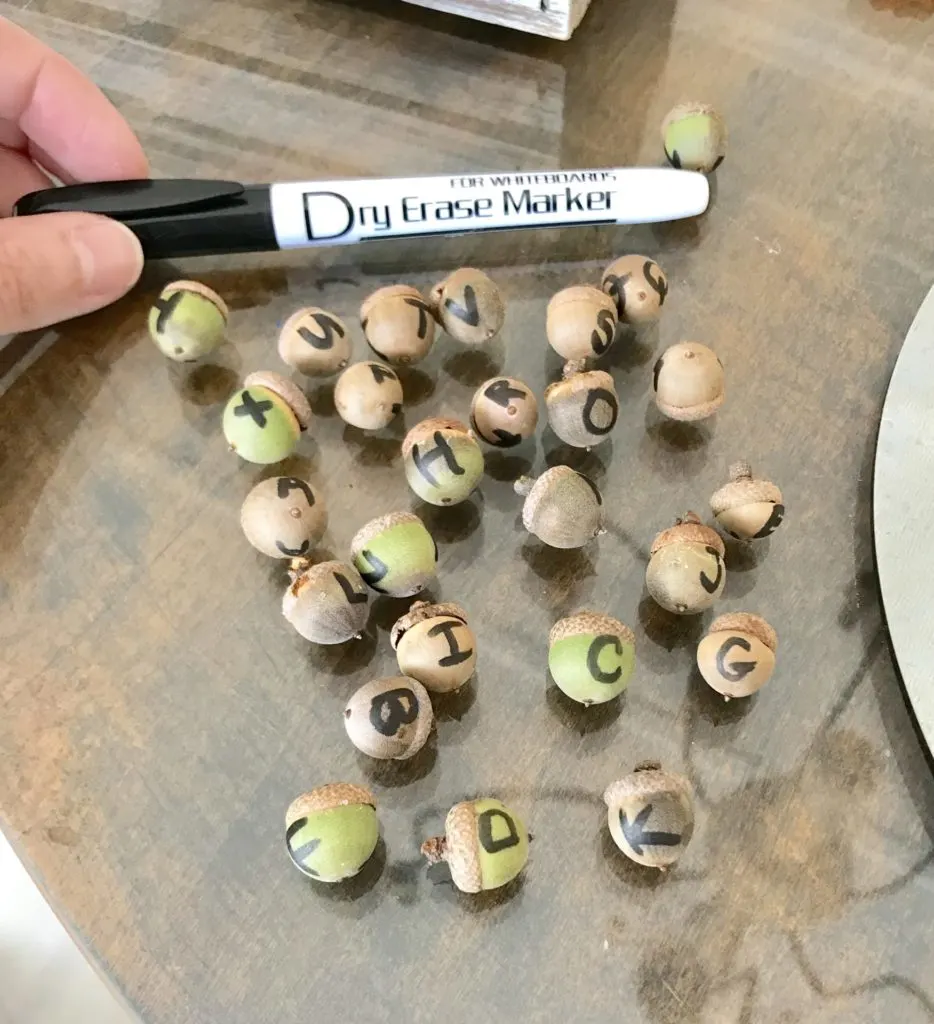 This part is, well, rather self explanatory.
I used a dry erase marker because that's what I had on hand, but any marker will do. A fun glitter marker would work too!
Create more than one of each letter if you want to make words with them and not just practice the alphabet. See a few ideas of games that involve words below.

I have to admit, I don't have the best penmanship, but creating the prettiest acorn craft isn't the point here.

If your kids know how to write their letters well, I would suggest having THEM write the letters on the acorns.
It does take a bit of coordination because the acorns are small and hard to hold. This is why I opted NOT to have my daughter do this.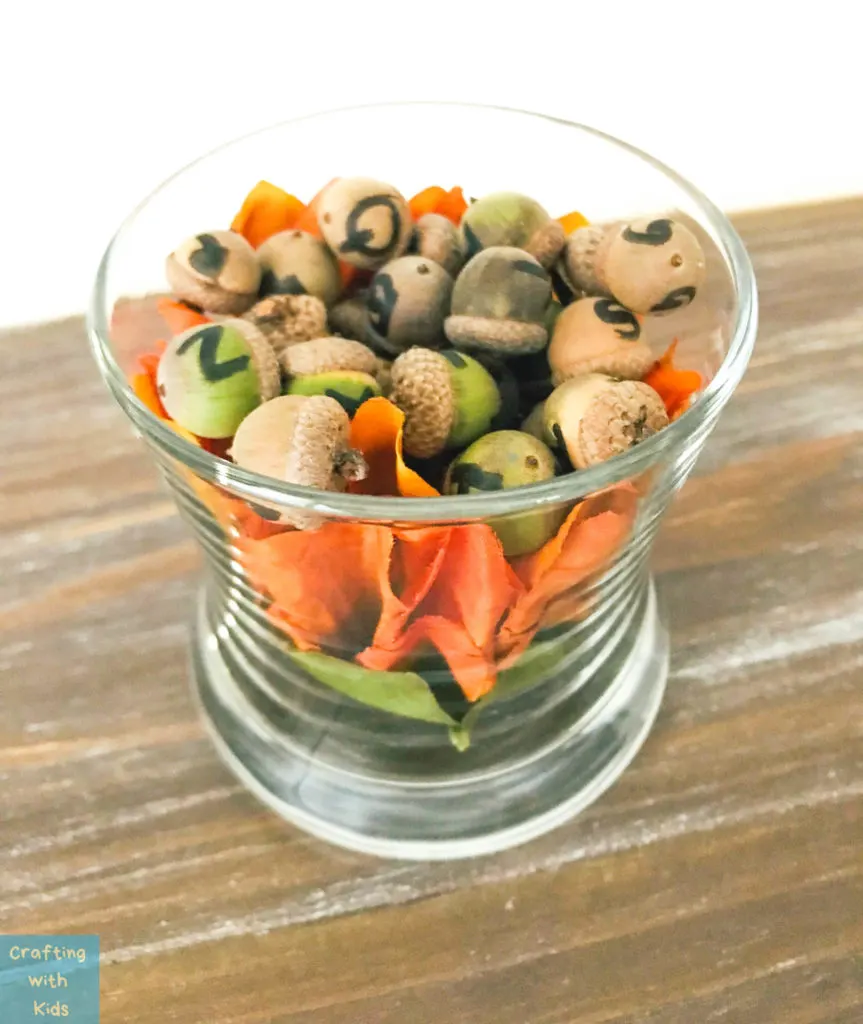 When we are not using them, I stuffed a "fall inspired flower" down a glass and dropped the acorns on top. It makes for a pretty addition to our fall decor!
Acorn alphabet learning activities
There are a few things you can do with your collection of "acorn alphabet."
Call out a letter and have your child find it
Make a word out of the acorns and see if your child can read it
Have your child create a word with the acorns
Close your eyes and pick one and guess what letter you've chosen.
The games you can make with alphabet letters are endless! Let me know if you have a good one!
Also if you are looking for more advanced learning tips, check out some information on great Kindergarten sight words here.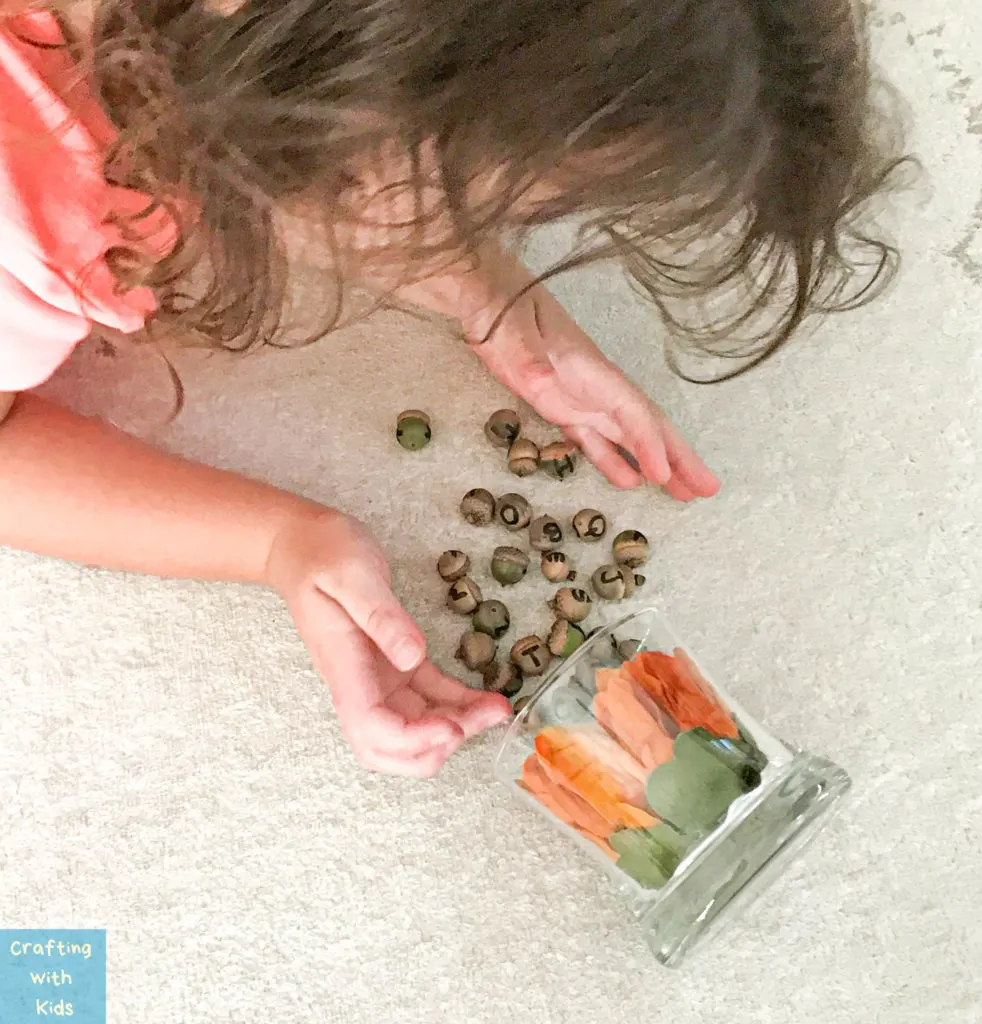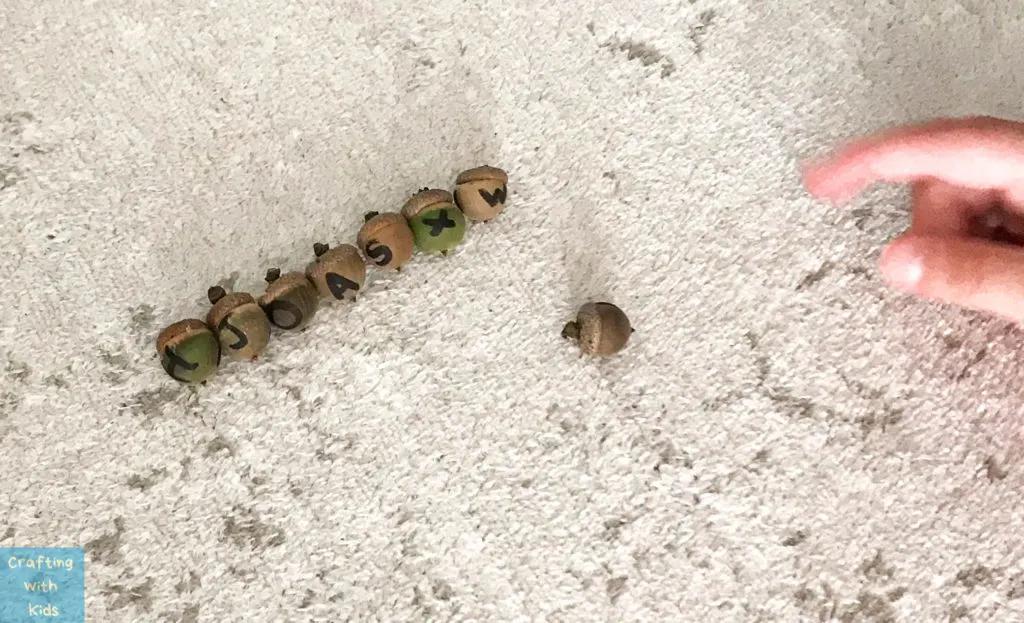 Did you enjoy this activity? I would love for you to Pin the image below to Pinterest!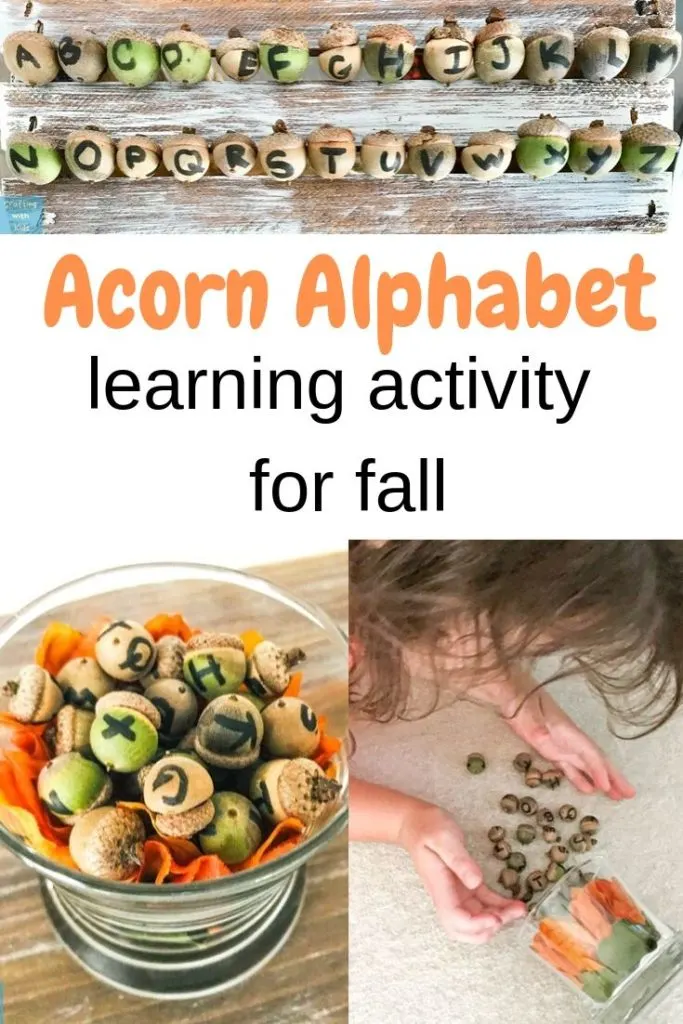 See you next time!