You know what's almost better than decorating for Christmas? Decorating for Christmas with food! Let's be honest, kids have a better chance of eating anything healthy if it's in the shape of something cool, right? That's where I got this idea to create a healthy edible Christmas trees with greek yogurt and fruit. I've seen this idea with icing and sweets, but my kids get enough sugar around the holidays. Let me show you how to create a healthy edible ice cream cone Christmas tree.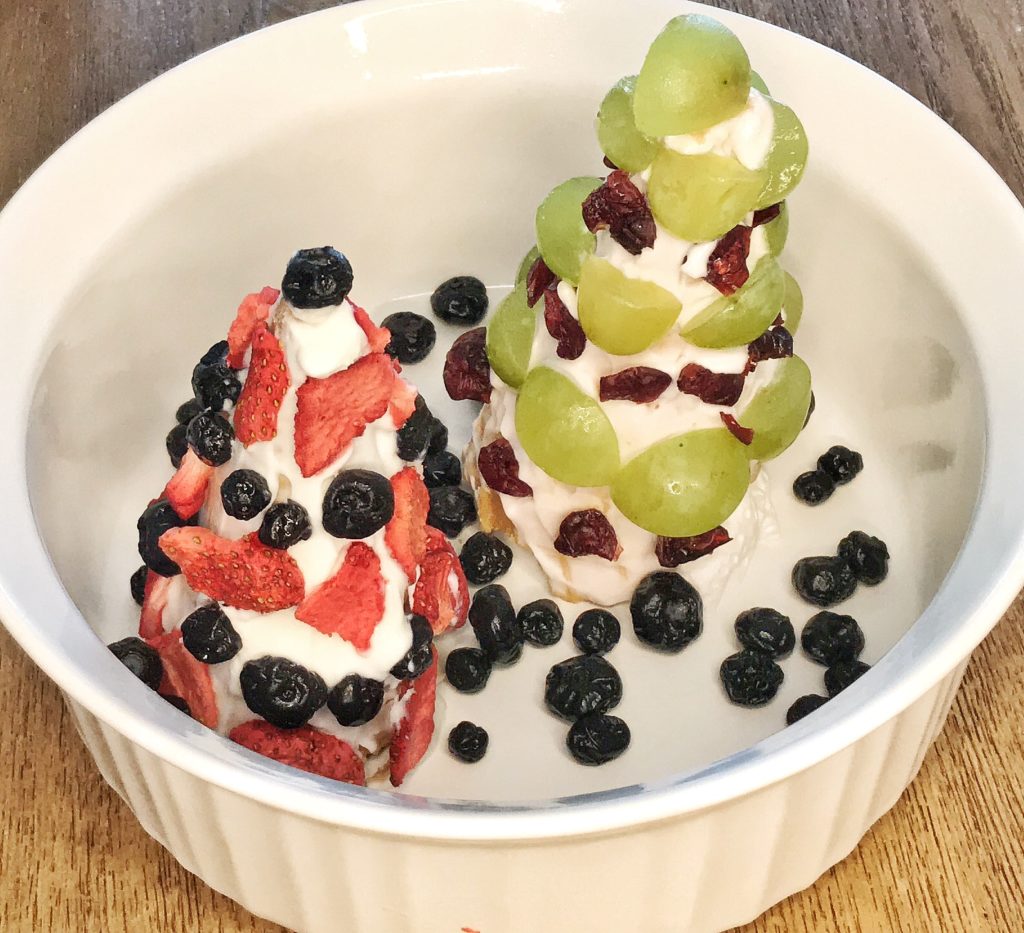 Healthy edible Christmas trees with waffle cones, yogurt and fruit
Y'all, this holiday snack is stupid simple. This is one of the reasons why it is so appropriate for kids to make on their own!
With just a few ingredients, these simple edible Christmas trees only take a few minutes to put together. The best part is that you don't have to feel guilty eating them or guilty letting your kids eat them!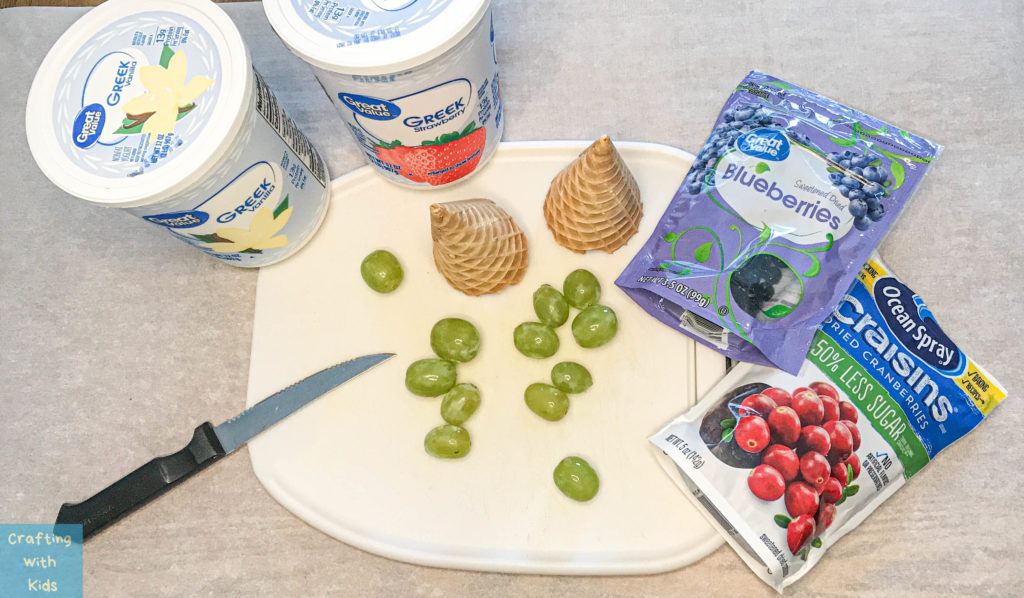 You really don't have to "prepare" anything. Just coat the waffle cones with a thick layer of greek yogurt (I got a few different flavors) and stick the fruit on it! Easy peasy!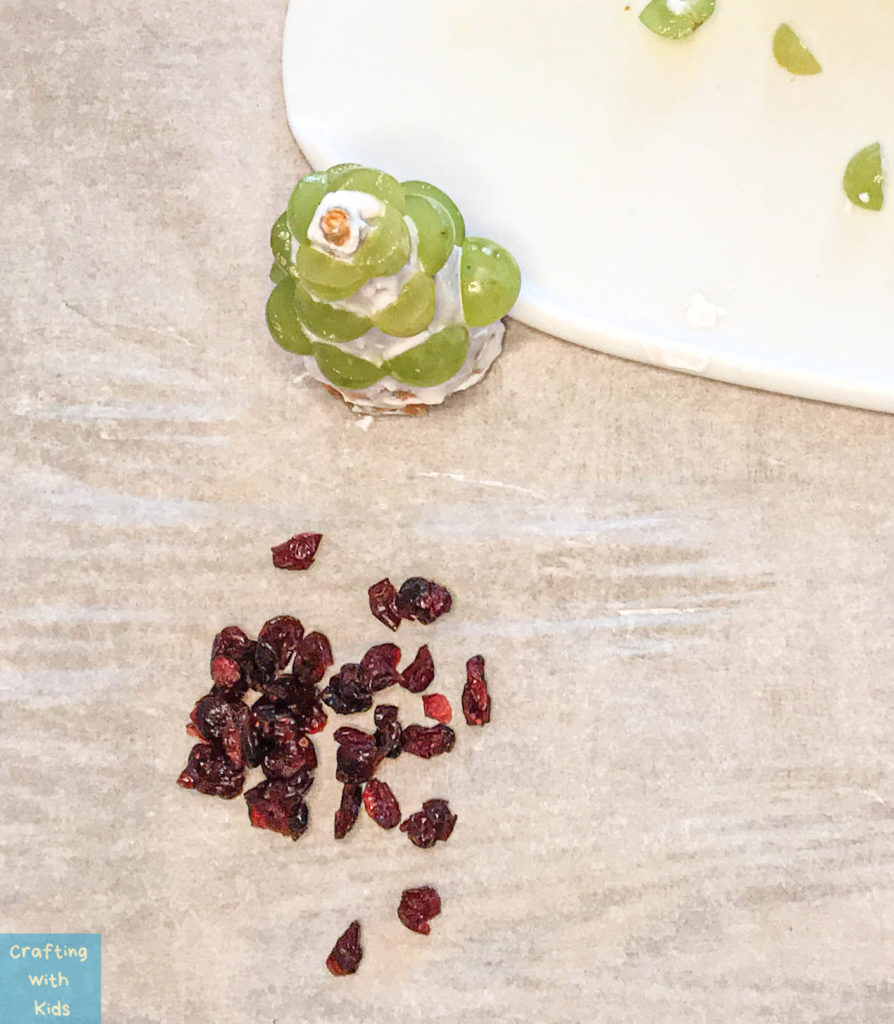 I love how fruit and greek yogurt can satisfy a sweet tooth without putting too much sugar in your system. I've been trying hard to limit the amount of sugar my kids get, especially around the holidays.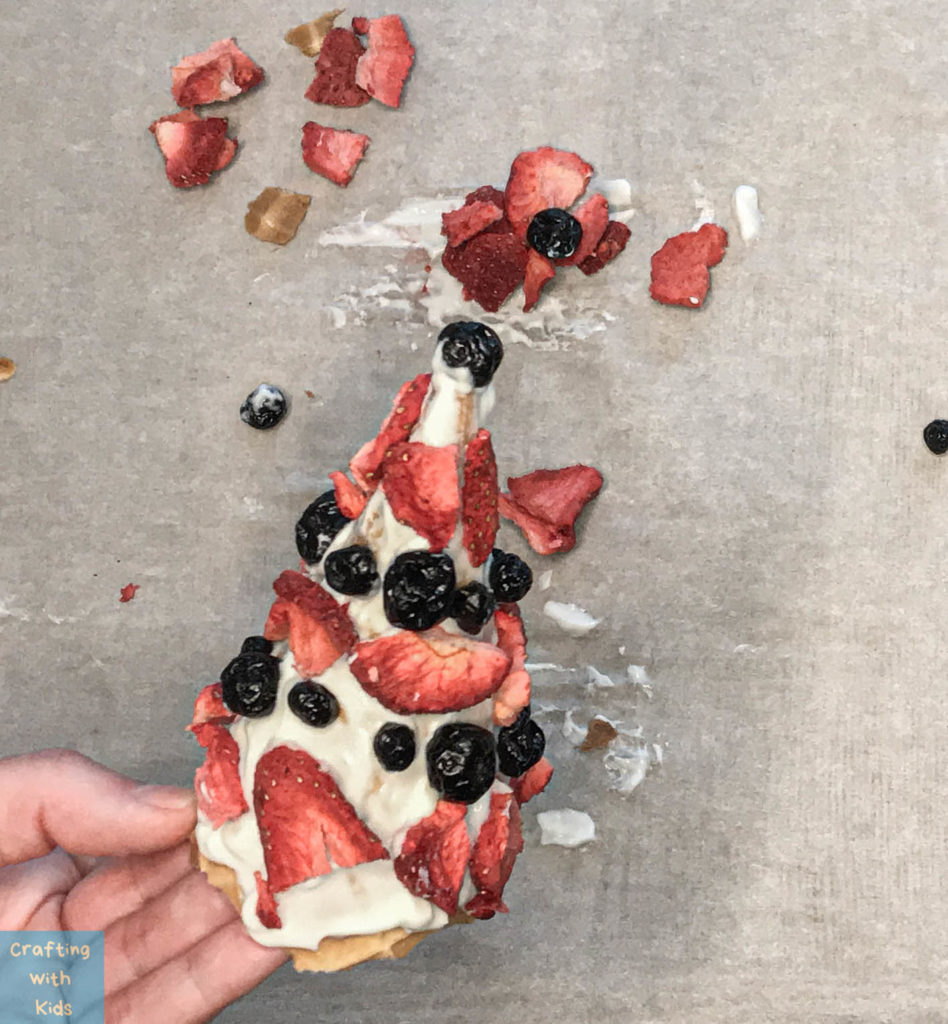 I've noticed that some kids who won't eat fruit (like my son) will sometimes eat dried fruit. I know a lot of the issues against eating fruit is a texture issue, that's where the dried fruit makes it easier to consume!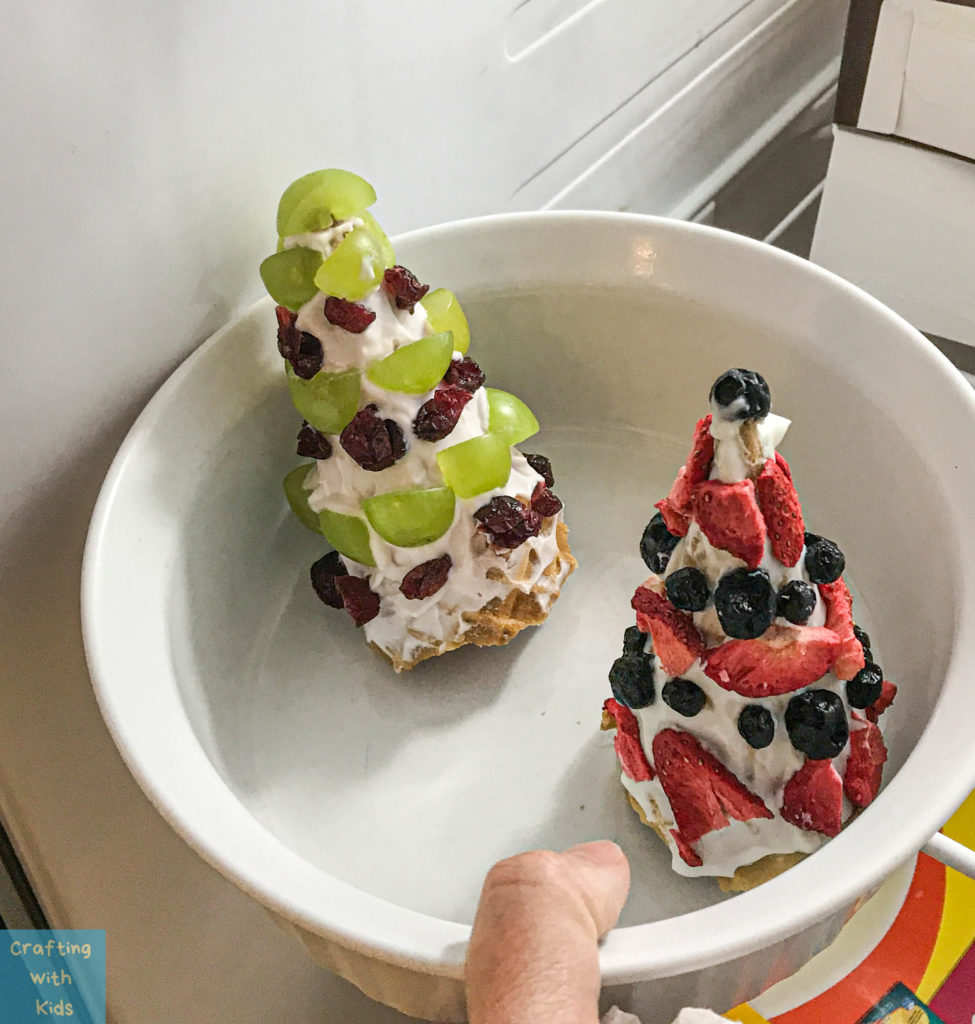 Once you've made the edible Christmas trees, make sure to stick them in the freezer for about 30 minutes. This gives the yogurt more of an "ice cream" consistency. It also makes for less of a mess.
One thing to note; I wouldn't freeze them for longer than an hour because they are hard to eat once they are completely frozen.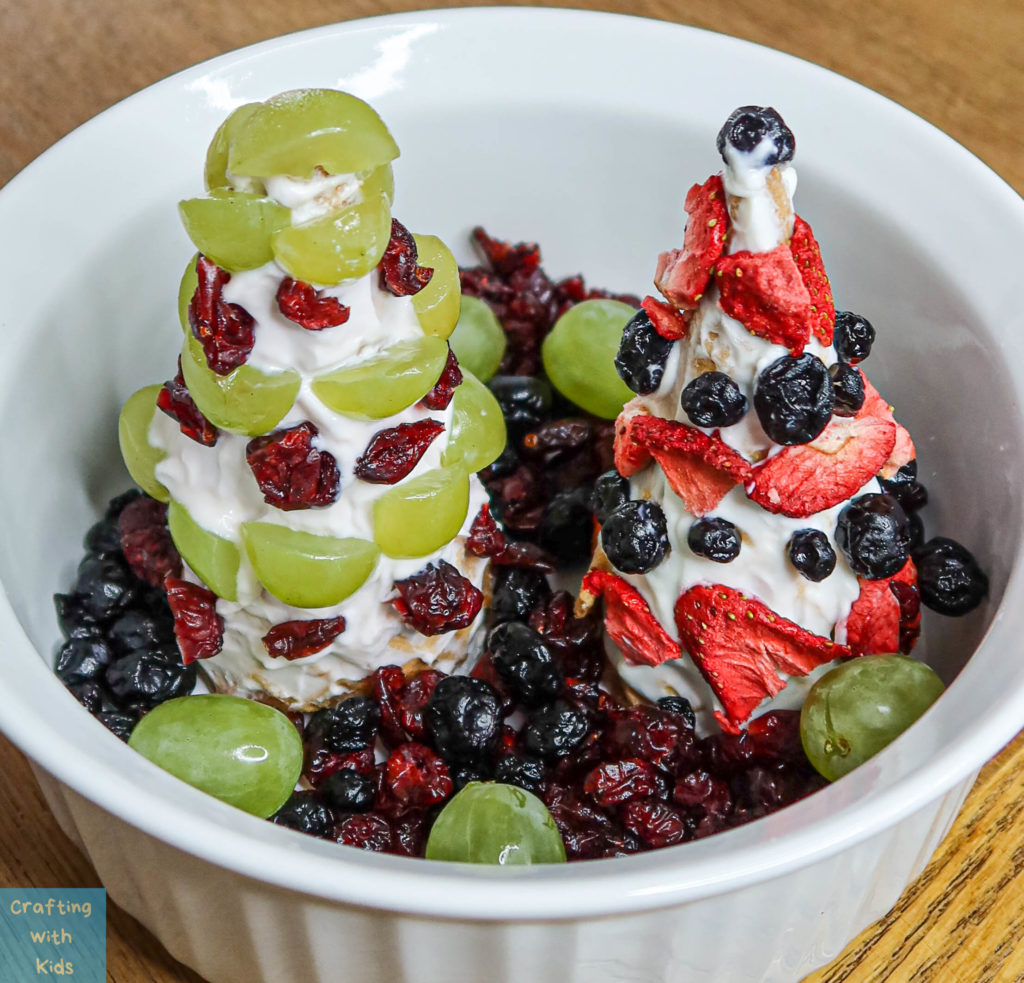 I hope I've given you a simple solution for a healthy holiday snack! Thanks for being here guys!
P.S. If you are looking for something less healthy this holiday season, check out our list of 50 Christmas cookies that kids can make which includes our melting snowman cookies!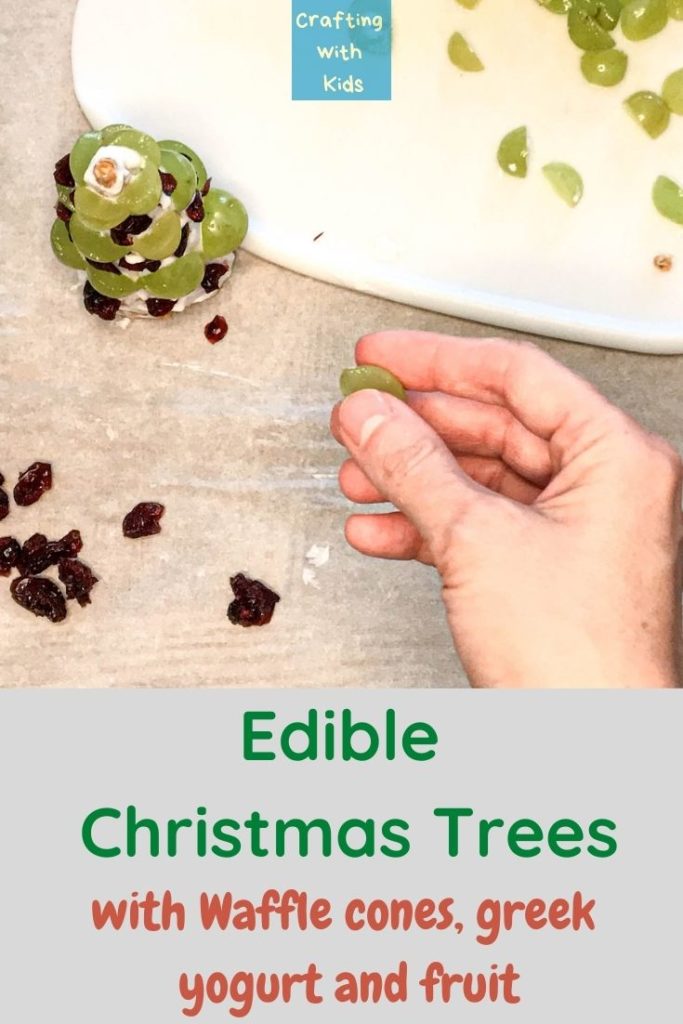 Healthy Edible Christmas Trees with waffle cones, greek yogurt and fruit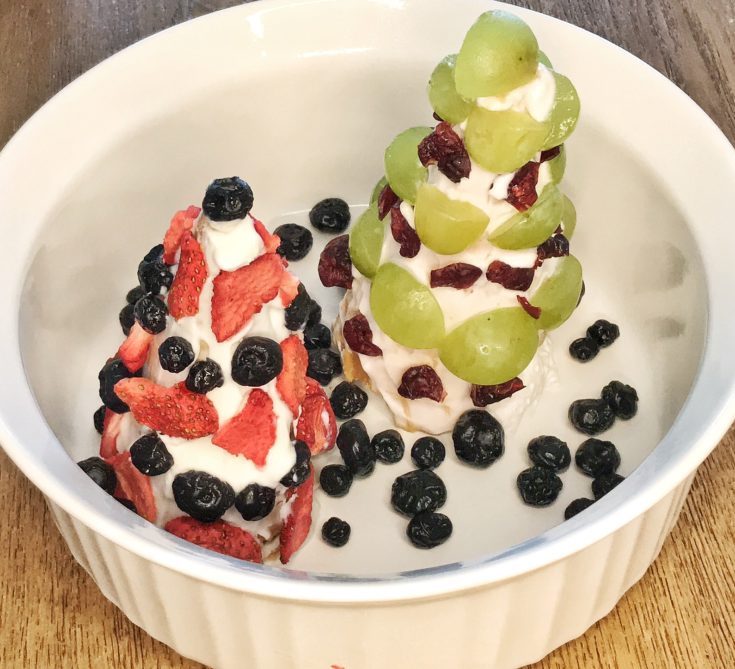 Learn how to make an EDIBLE Christmas Tree the HEALTHY WAY! I've shared how to make these healthy Christmas snacks with waffle cones, greek yogurt and fruit. Kids love to create these fun Christmas snacks.
Additional Time
30 minutes
Ingredients
Waffle Cones
Greek Yogurt
Freeze dried Strawberry Crisps
Dried Cranberries
Dried Blueberries
Grapes cut into quarters
Instructions
Coat a waffle cone with a thick knife full of greek yogurt
Make sure the greek yogurt is spread evenly on the outside of the waffle cone
arrange the dried fruit or cut grapes around the cone making sure it sticks into the yogurt
Set in a clean dish and put in the freezer for 30 minutes
Pull out and enjoy immediately
Notes
The edible Christmas trees are ready to eat after about 30 minutes in the freezer. I would not leave them for longer than one hour in the freezer because the fruit becomes too hard to eat.