When did craft kits become a thing? Growing up all we needed was crayons and paper and we let our imagination soar! That being said, there are so many great and affordable kid craft kits that are even educational! These are great especially on those rainy days when you need to occupy those little minds with something other than the screen. The best thing about these fun kits is that they come with everything you need to complete the activity. No scrummaging around for any supplies!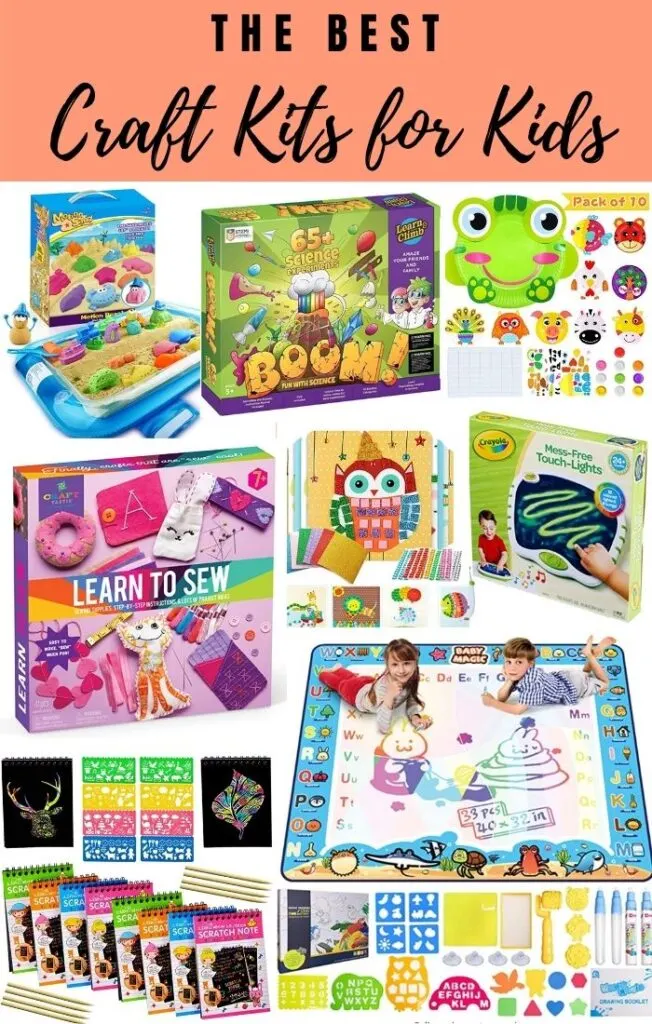 We've searched the Amazon reviews and come up with the best craft kits in each category.
Disclosure; this post contains affiliate links. As an Amazon Associate I earn from qualifying purchases. This does not affect the price you pay. This disclosure statement refers to the rest of the Amazon links in this post. See more on my disclosure page.
Mess free craft kits
Some of the best mess free kits are the ones that involve the " invisible ink" and scratch art. I love these kind of art kits because they allow your children (especially younger ones) to get creative without a lot of hands on help from an adult. This promotes more independence and helps boost confidence once they know they can create something all by themsleves!
Scratch Paper Art Notebooks
Scratch paper is so much fun especially for toddlers. They can create masterpieces in all sorts of colors while learning how to use a pencil or stylus. These scratch paper craft kits will occupy kids for hours. They are especially great for road trips!
Paper Art Craft Kits
Paper art craft kits can come in all different types. From paper plate crafts to paper cup crafts to foam crafts, these are all mess free and fun!
Mess free coloring
If your kids love to use markers and you don't want to worry about them drawing on anything other than paper, then this is the coloring kit for you!
Sand art kits for kids
Sand art used to be only available in sand boxes and the beach. Not anymore! There are so many great sand art kits that come in all different colors. Entertain your kids for hours by creating sand bottles, digging for days in kinetic sand, and building your own sand castles at home!
Sewing craft kits for kids
It's never too early to teach your child an activity like sewing. Sewing engages great coordination and motor skills while learning a great life skill. These sewing kits are great to introduce your child to this new craft.
Science Experiment kits
Kids are little sponges so why not fill their little minds with lots of STEM activities? With these science kits they will learn the basics of how to create a science experiment.
Science kits for kids 6 and under:
Science Kits for kids 6 and up:
I hope you've found something on this list that peaks the interest of your child. Learning doesn't have to be boring. Let these kits help you and your child explore and create!